Hello! Hello!!!
KNS Gear has been gearing up Christmas Season and Zazzle is having a 40% off sale until October 1st, 11:59pm Pacific Time. Our Holiday Greeting Cards and Holiday Postcards have been updated this year and most now have a design on the inside or backside of the postcard. These distinctive design elements makes our cards stand out. The interiors are beautiful and have been made with you in mind. The colors are light enough so that you can easily write in pen.
Our Holiday Greeting card section (link below) shows all of our seasonal cards plus has a lot of seasonal envelope stickers and seasonal address labels. Steve and I have purchased one of almost everything we have made to insure that the quality of the product to our customers is top notch! So far we have been VERY satisfied with the quality of the items we have purchased. We truly believe that you will be extremely happy with your purchases.
Here are a few individual cards both the outside and the inside, so you can see what I'm talking about. Up first is our Winter Solstice card. We have this in both a greeting card and a postcard. The exterior says "Welcome the beginning of Winter and the return of the light."
The inside of the card has the beautiful crystal snowflake photograph and the customizable text space. You can change that to your name of course!
To see the card in our shop, click link below
Here is the second Winter Solstice card that we created, with the same sentiment on the front but with a different photo on the front and different interior design.
To see the card in our shop, click link below
The next card that I got a screen capture of is the truly unconventional card of the season. I discovered this photo and thought it was perfect for a holiday card - maybe a chef or home cook would enjoy a card that reflected their interests. Maybe someone who is known for having the holiday dinners would love this card design.
The sentiment inside the card is completely customizable and can say whatever the buyer wants. I put on there, "May we enjoy each other's company again, soon." as that is what I was thinking. I miss my friends and family and I cannot wait to share a meal with them again.
To see the card in our shop, click link below
Here is the last card that I'm featuring in this post and it's the iconic red car with a Christmas Tree on the roof. I find it funny that in this watercolor design, the tree has a few decorations already on it. I hope they don't drive too fast!
The inside of the card has a larger picture of the back of the car and the salutation is of course completely customizable.
To see the card in our shop, click link below
I have ordered about 50 postcards this past year and I love them. They are not those thin flimsy cards you can buy for a Dollar each, or that you are receiving in the mail by the dozens during election season. These postcards are thick, you can write with a Sharpie on them and it won't bleed through and still only takes a postcard stamp to mail.
You can see the whole Holiday Postcard Collection by clicking the link below.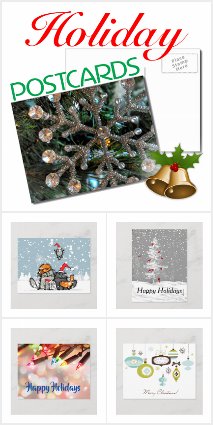 AND I know Zazzle will be having an ornament sale real soon, so I leave this collection for you to look at and ponder until a sale comes.
I believe that one should take advantage of sales and not buy full price if you don't have to, especially with Zazzle. Zazzle has a sale going on every single day for one type of product or more. Sometimes the sale is 20% off -- sometimes, like this week, it's 40%. If you sign up for Zazzle emails, you can get notice in your inbox as to what the sales are and how long they are on. If you sign up for Zazzle Black, you pay a small fee once a year and get regular shipping free all year.
Here is the current sale and abbreviated details.
A discount of up to 40% off the product net sale price shall apply when one or more qualifying products are purchased: Enter code CARDSFOR2020 in the promo code box at checkout...
This offer only applies to qualifying products marked "Sold by Zazzle."
Valid until 10/1/2020 11:59:59 PM Pacific Standard Time.
Thank you so much for stopping by.
Have a great day!
Kristin
KNS Gear is Kristin 'n Steve.
That's us! My husband and me.
#KNSGear #ChristmasCards #WinterSolsticeCards #WinterSolstice #ChristmasPostcards