Food has always been a part of my life, but now it's become something other than just getting something on the table. My boyfriend Steve and I cook together most of the time. That's something that my ex-husband and I rarely did, so it kind of made cooking a chore. Steve and I look up recipes, talk about them and stand in the kitchen together creating them. He's got a huge list of potential dinner ideas from all of the dishes we have made together this past year. If we find something interesting that neither one of us has made before, it doesn't matter! We forge ahead anyway. We are comfort food people, not necessarily adventurers when it comes to our dinners. We make things like salisbury steak, pork chops with grilled onions, meatloaf, flatbread pizzas, leafy green salads chock full of veggies and kielbasa and sauerkraut. Steve has introduced me to Vietnamese and Thai food (when we go out to eat) and I have introduced him to high quality bacon, for the best BLTs at home! It's win win, that's for sure, and we have such a good time.
Some of the things we find that we'd like to try are of a quantity that's too much for just the two of us, so the potlucks that we go to each month are the times when we pull out the crowd pleasing meals. Usually, these crowd sized recipes are untried -- yes, yes, we experiment on our friends.
At our latest potluck we made it a Mexican theme. I am a fan of Mexican food, but I don't like anything hot, so I have to carefully order my food at restaurants. No hot stuff, no salsa either. My goal for our potluck was to make something that had great flavor, tasted like it came from a Mexican kitchen and would still be stove hot and tasty when everyone finally got ready to eat. If you want something to stay hot for a potluck, it's gotta be made in a crockpot.
My Mexican food repertoire includes chips and cheese, chicken nachos, chicken taquitos and tacos. Not really innovative or exciting, right?
What does a girl do when she's short on talent?
Google!
Pinterest!
I searched both for "Mexican crockpot meal" and only found a few that fit my no-hot-stuff, no-salsa requirements. The one I ultimately chose seemed really iffy for some reason. I couldn't quite put my finger on what I thought was wrong with it, but I was just sure it was going to be bad.
This is real good news to all of you that have stayed with me this far into my ramblings, huh?!
As I mentioned earlier, I do tend to bring brand new, never been tested recipes to potluck. Thankfully I have only had one fail in all the years, but I was positive this was going to be fail number two.
In actuality, we were lucky to bring home any at all!
I got a little carried away with the sour cream in this photo! This is the way we ate the leftovers - sort of a deconstructed nacho. Chips, lettuce, sour cream and the crockpot chicken.
Mexican Cream Cheese Crock Pot Chicken
2 Chicken Breasts, boneless/skinless
1 (15 oz) can Black Beans, drained
1 (7 oz) can Green Chiles, chopped
2 (15 oz) cans Diced Tomatoes, undrained
1 (8 oz) can Corn, drained
1 (6 oz) can Sliced Black Olives, drained
1 yellow Onion, chopped (about a cup)
1/2 an envelope Taco Seasoning
8 oz Cream Cheese, cubed
***Now that we've made this a few dozen times we have altered the recipe. Now we add these -- an additional 15 oz can of black beans, an additional 8 oz can of corn (or frozen), a 20 oz can of chopped green chilies instead of 7oz and 4 more ounces of cream cheese. We also use additional taco seasoning to taste.
***We have decided to make our own taco seasoning instead of using the prepared envelopes. 2 Tablespoons of taco seasoning = one envelope of store bought (1 1/2 oz) I will have to post the recipe to the taco mix. I'll link to it when I get it written.
Now the hard part
Put all ingredients into the crockpot, except the cream cheese.
Turn on crockpot.
4-6 hours on High or 8 hours on Low.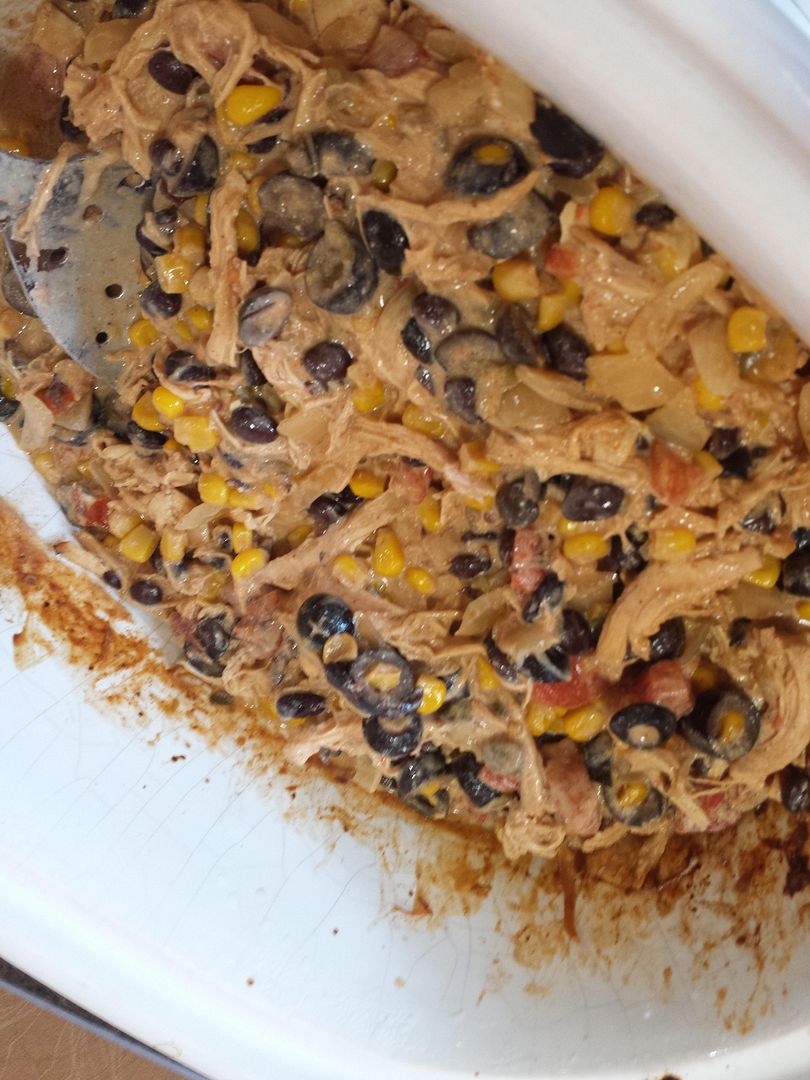 I decided after seeing this photo that we needed to add in another can of diced tomatoes. (It's now reflected in the recipe) The dish needs just a bit more color.
When chicken is tender, take out of the crockpot and shred. Add back to pot and add in the cream cheese. Cook for an additional 30 minutes.
Stir well and serve over rice or quinoa OR serve with tortillas OR serve with tortilla chips.
We used already cooked and shredded chicken, as I had cooked up a bunch the day before in my pressure cooker. So I added in some homemade frozen turkey stock cubes that I had in the freezer to make up for the lost liquids in already cooked chicken. I'm sure a 1/4 cup of chicken or vegetable stock would be fine, too. Since my chicken was already cooked and shredded, I was able to avoid the "burn your hands shredding the chicken" step in the recipe! It was still full of flavor and tender.
I didn't realize there were so many choices of diced tomatoes, when we went to pick out a can at the store. I chose the fire roasted diced tomatoes and they gave a nice flavor to the dish, but I'm sure any kind you like will work well.
The dish was a hit and I will make it again. I might even make it just for us and freeze half of it. We liked it best as deconstructed nachos with our crispy tortilla chips. At potluck we served it with corn tortillas so it could be an entire gluten free meal for our GF friends.
Thanks for joining me!
Have a wonderful day!
Kristin