Once upon a time Steve asked me if I liked olive tapenade and when I wholeheartedly agreed, he suggested that we learn how to make it. Life Lesson - Easy to make and so easy to eat! Oh goodness, this is quite a treat and it lasts for a long time in the fridge. It's just olives!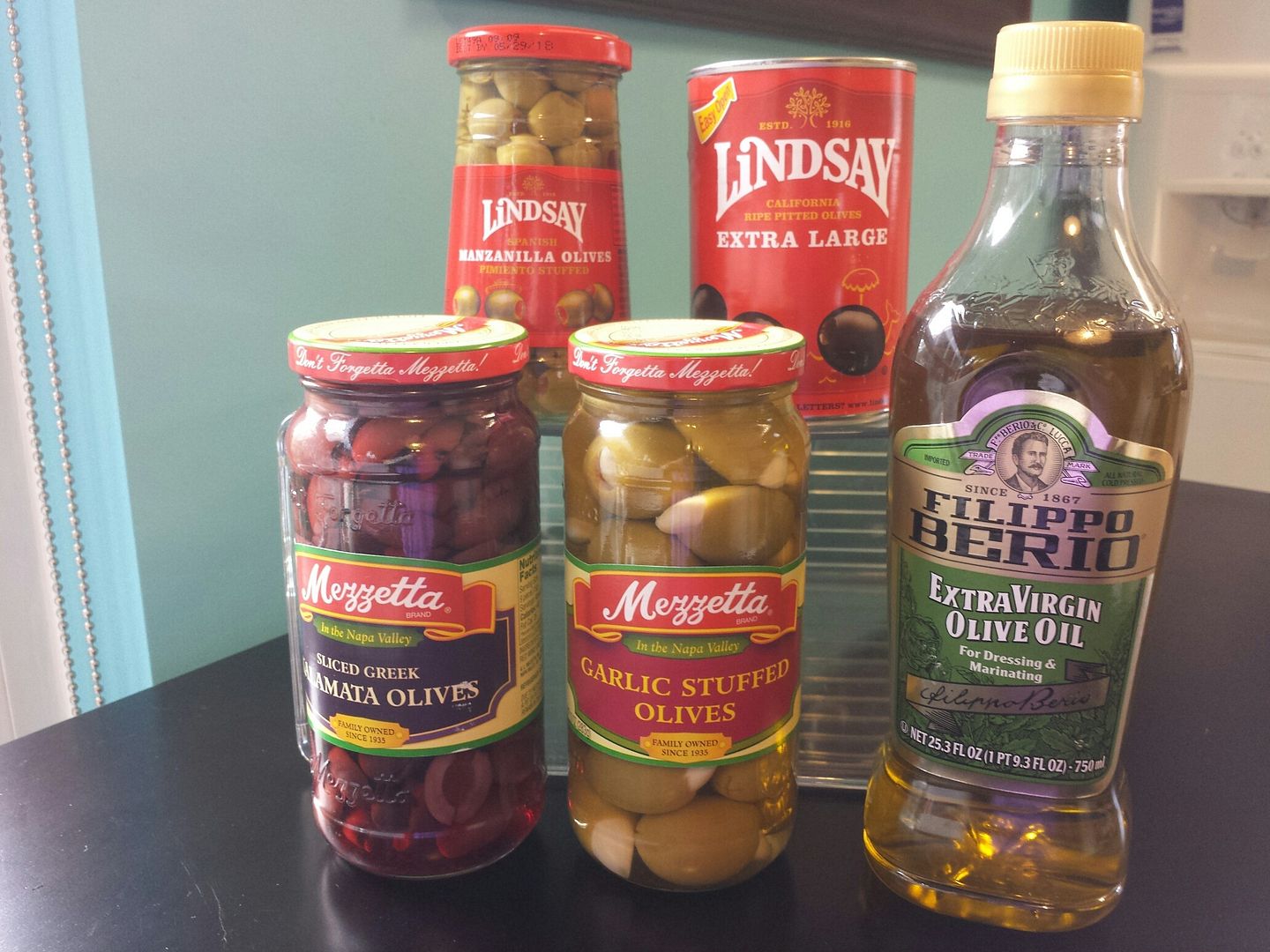 The cast of characters is a small but tasty group. Pick up a jar or two of these olives, all whole if you can get them and pitted.
Manzanilla olives (green olives with pimento), black olives, Kalamata olives, garlic stuffed olives and Extra Virgin Olive Oil.
Truth be told, usually we just toss in an assortment of the olives and adjust the mixture in the end. For the purposes of blogging, I thought we might try to get an exact amount. Turns out that was a real smart idea! A cup and a cup and a cup and a half!

I broke out my Grandma Corlett's steel measuring cups for this project. I love how they feel in my hands and the Kalamata olives really looked beautiful in them. I hardly need an excuse to use more kitchen items than necessary!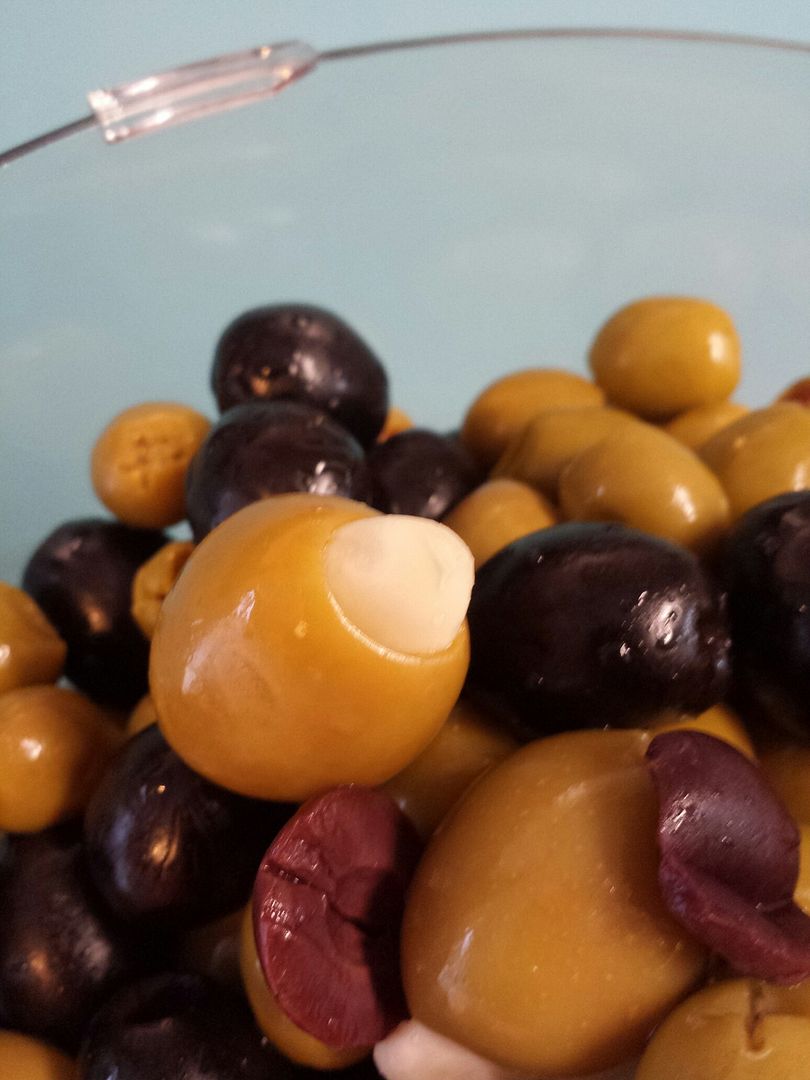 We put all of the olives together plus the olive oil in the big Cuisinart and pulsed them a couple of times.

We used all whole olives so that the mixture would chop up uniformly. That was my theory in any case. The Kalamata olives were sliced in half and they didn't seem to be any more or less pulverized than the others when all was said and done.


We used a metal spoon to stir the mixture a bit and pulsed a few more times. Stir and then let the mixture run a few seconds to chop up all those big fellas.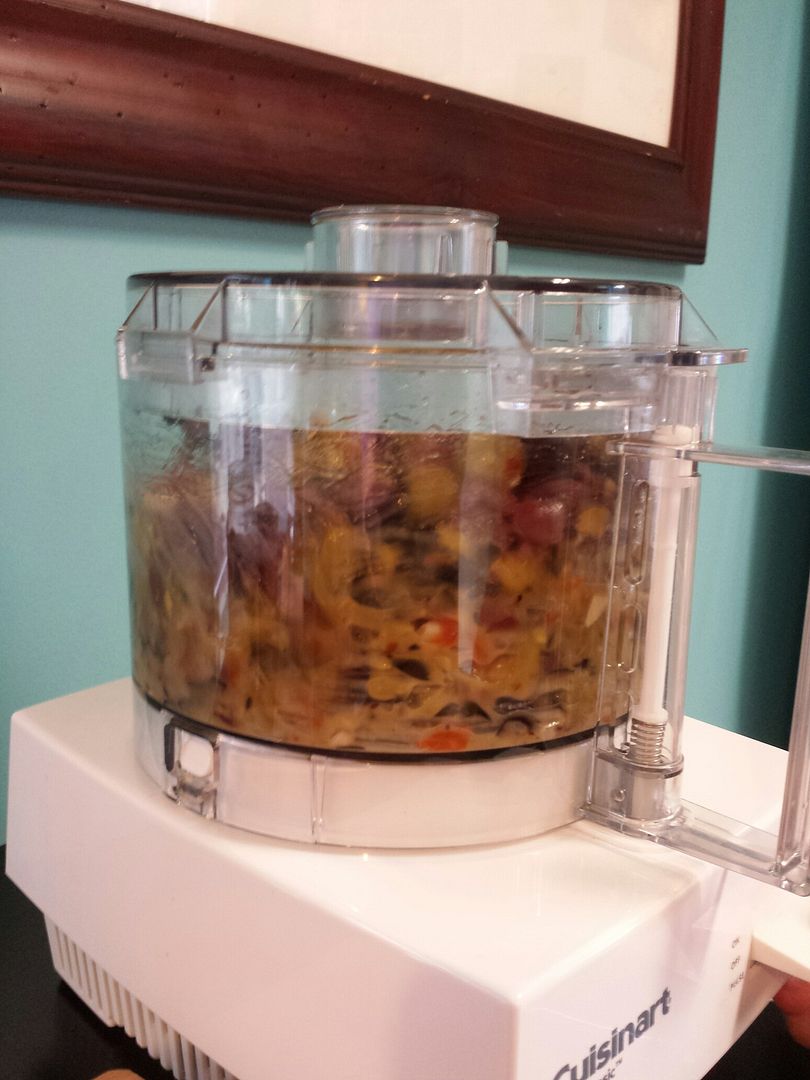 This was an action shot!
Steve likes the mixture with a lot of olive oil but if you prefer a drier mixture you can adjust the amount of oil used.

When the mixture looks like this, it's done! We decided to do several taste tests at this point though. You know, just in case we needed to tweak the proportions of the mixture...we didn't.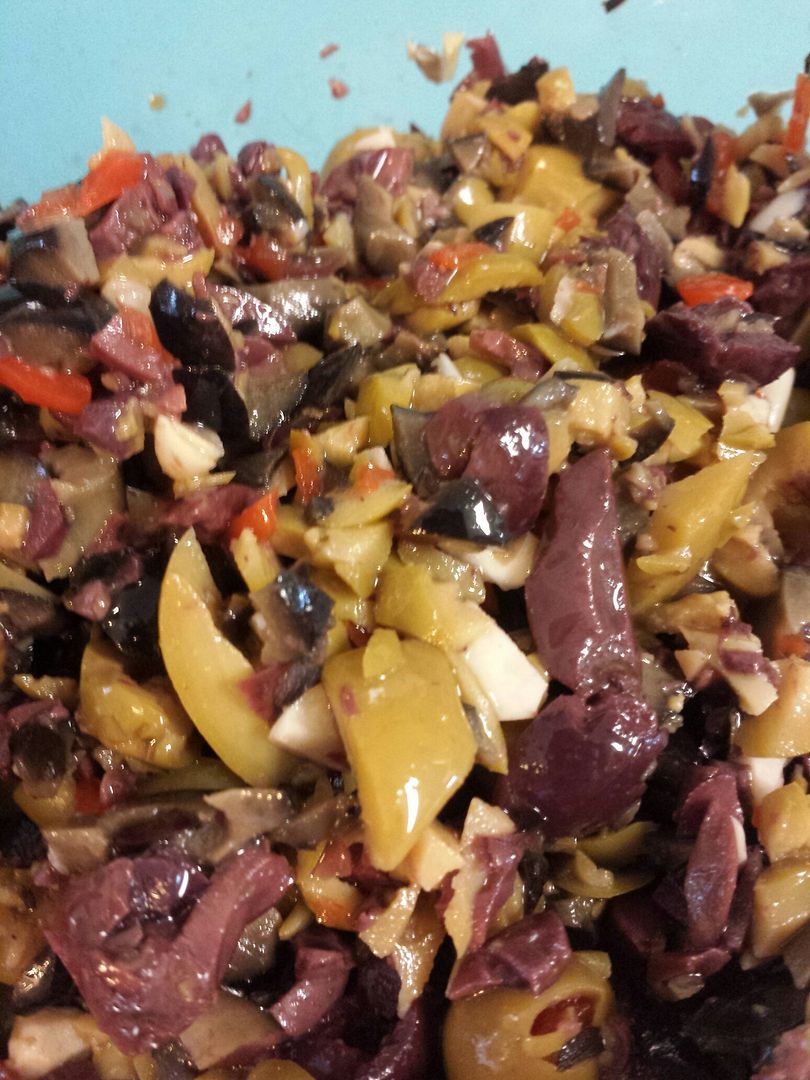 Big pieces of green olives and small bits of pimento mixed with all sizes of olives from big to miniscule. Salty Heaven

Now go find some bread.



We only had a soft bread available tonight, but it didn't matter, I scooped up the olive tapenade and tried to balance as much on top of the bread as possible. I walked around the kitchen while holding this piece of olivey goodness, trying to talk with my mouth full and ended up not making any sense and dropping several large blobs of olives on the floor.

I recommend eating in a more civilized manner and use a plate to catch the falling bits. And trying to talk with your mouth full is ... typical of me, but you certainly don't have to.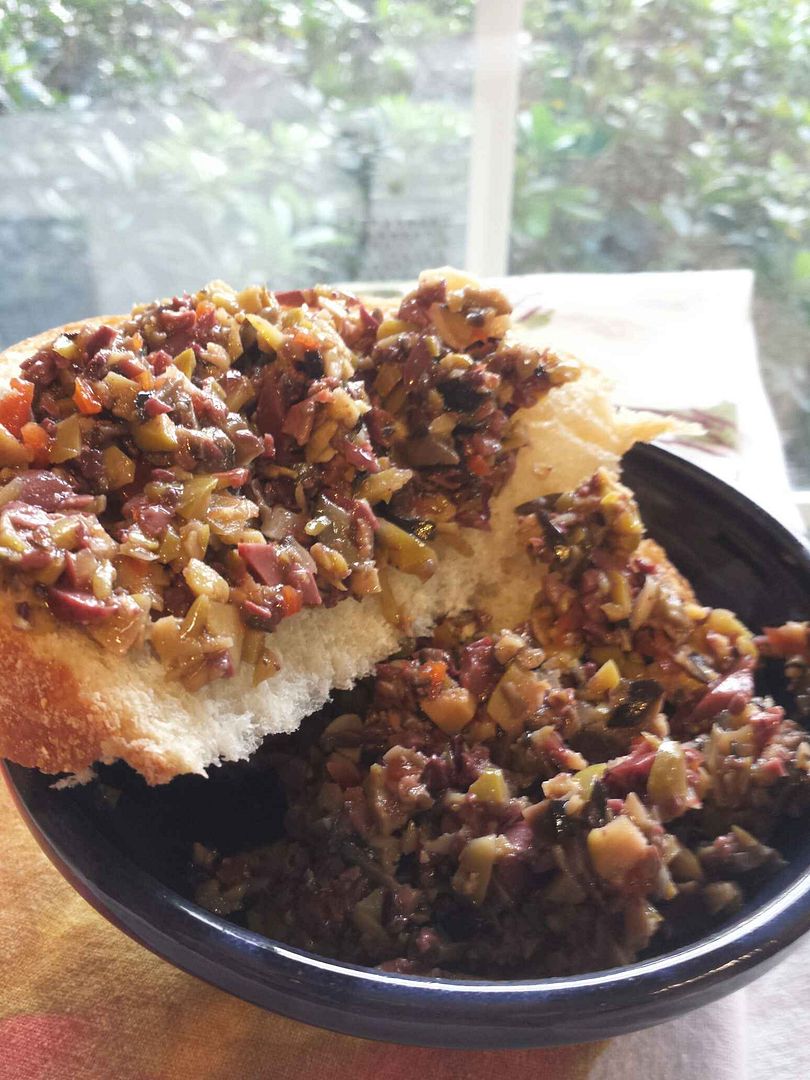 A crustier bread is usually prefered but I have found that if the mood strikes, any bread will do. I used an everything bagel the other day. If you are planning in advance to have this dish, get a nice french baguette to have with it.


The Recipe

Olive Tapenade

1 cup Black Olives
1 cup Garlic Stuffed Olives
1 1/2 cup Kalamata Olives
1 cup Manzanilla Olives (which was a whole 5.75oz jar)
1/2 cup Extra Virgin Olive Oil

Drain olives.

Depending on the size of your food processor you may want to blend the olives together in one or two batches. Put all the ingredients together in the food processor and pulse and blend until desired texture.

Stir and serve.

Cover and refrigerate the remaining tapenade.
Have a great day!
Kristin
take a look, if you dare!