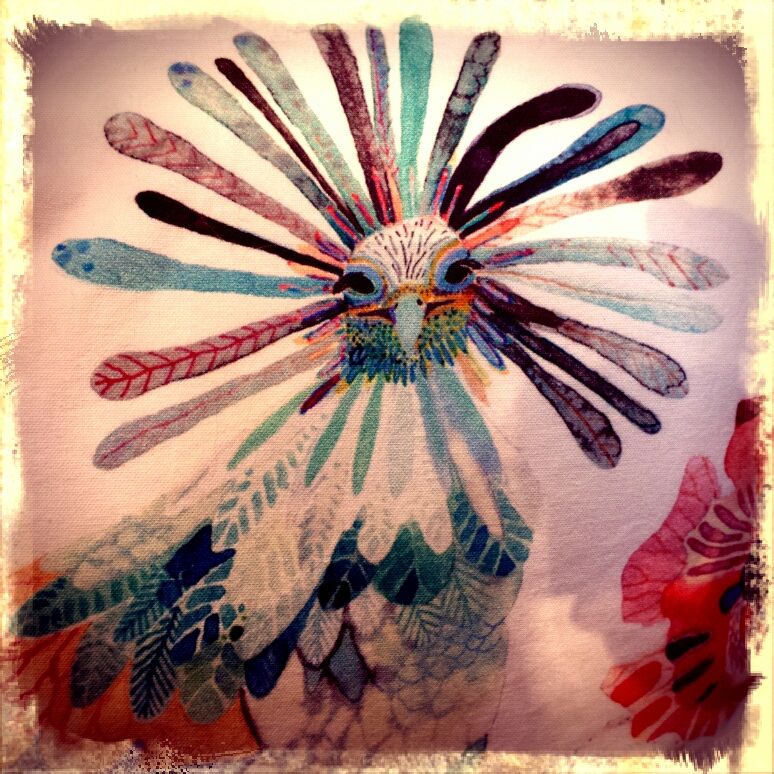 My Christmas of 2013 did not include any shopping in the cool shops this year. My money was tight and I just wasn't in the mood to be in the crowds. This meant though, that I didn't get a chance to go to some of my favorite places to wander and dream and look at all the Christmas decorations the stores put up. The Anthropology store is one of my favorites, any time of year, actually. On Saturday morning I had a couple of hours to myself so I took some time to go visit the store.
I couldn't live with EVERYTHING that Anthropology has for sale, but I find that I like all of the girly flowers on dishes, the fabric wrapped giant letters and strange fabrics on pillows. The peacock above is from a wonderful pillow that I saw there. I am so grateful that I have one of their super soft, patchwork comforters. I have been adoring them for years and a few months ago my Mom gave me the Anthropology comforter that she has had, but recently updated with something else. I was happy to accept the hand-me-down. Not to mention, it fit right into my price range - Free!
I think one of the most interesting things about the Anthropology stores are the decorations. They are so simple at times, but look incredible. I've seen walls of books that were made into a magical mountain and straws that were strung so that they looked like a waterfall. One of the Christmas themes this year was the use of birch. There were a couple dozen of these birch pieces for one vignette, some wrapped with a little bit of white twine and covered with fake, glittery snow. It was gorgeous!! and it looked so easy. If I still had a birch tree (I had one in my yard a dozen houses ago) I would start gathering the trimmings and make one of these birch decorations.
As many of you know, I collect bread bag tags. I have tried to think out of the box as to what to do with them, Anthropology style, to make them an incredibly wild decorating element in my home. So far the inspiration has not struck, but by the end of this year, 2014, I will have at least a small wall covered in them. I've already picked the wall.
I hope you have a great day!
Kristin