The Kitchen Re-Do
It's been nearly a year since we painted the countertops black and planned on getting the wallpaper off and get some paint on those dull walls. I peeled some of the paper off many months ago and that's about as far as I got. One day, in that small span of time between Thanksgiving and Christmas I got a wild hair to tear apart the kitchen. I don't know what I was thinking! It was just after Thanksgiving that we tackled the wallpaper removal process and amazingly it wasn't too bad!
The bare sheet rock walls had not been primed, but the builders made huge swaths of paint or primer or something around the cabinets, the ceiling and the door frames and trim. So really we only had to deal with a couple of spots that were just drywall. We spent two days just filling in the divots, holes and other uneven spots and sanding everything as smooth as possible. It was well worth all of the work - the walls look awesome now that they are painted.
As soon as we finished painting the kitchen we were in a frenzy to get ourselves ready for Christmas events with our transplant community. Then, I got a dreaded cold followed six days later by Steve getting the dreaded cold. Needless to say, the kitchen has remained in a state of not-quite-ready-to-be-photographed-bliss. This photo above, that I shared with Facebook, is all that I have right now.
Now that we've lived with the kitchen for a few weeks, in it's unfinished state, we've pretty much decided that I'm going to need to paint the cabinets a nice creamy white/off-white. I have Annie Sloan Chalk Paint already purchased, so that's what I'm going to use. It'll be so much easier to use than latex and a whole lot less smelly. I have a small door in the same wood that I'm not using - I took the door off my medicine cabinet in the bathroom - so I can paint that and show Steve. If he likes it, like I'm sure he will, then I'm going to get going. I am not going to wait another year to get this project finished.
The paint color that we used on the wall is:
Home Depot Behr Brand - Tropical Tide #520D-5.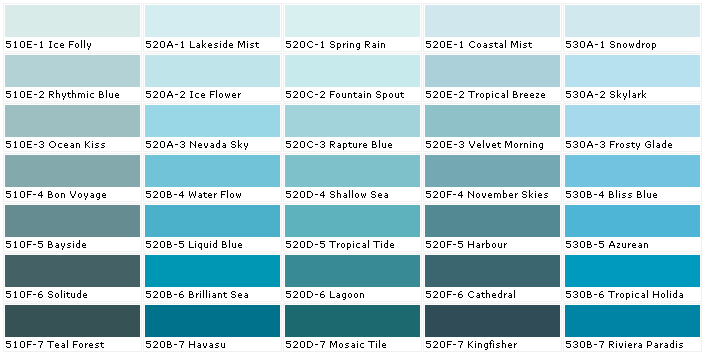 I wanted to go one shade darker than this, but Steve wasn't sure. I love the color we did choose as it's even better in that room than I imagined. We had originally thought about going more blue, like the Liquid Blue in the next column, but I was really afraid it would look too much like Dawn Dishwashing Liquid! The green/blue really was the right choice for us.
I will give another update, with a lot more photos in the coming weeks. I'm over my cold, Steve is too. We're anxious to get the house put together again. It's been a work in progress since I moved in over 6 months ago. It's time. It's beyond time.
I hope you have a wonderful start to your New Year 2015. I'm looking forward to this year.
Kristin