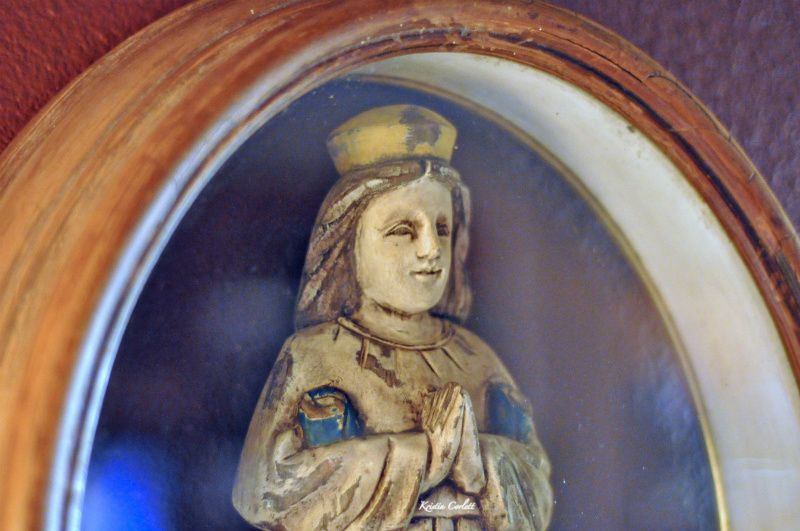 POTD - Saint
©2012 Kristin Corlett
I've been going to nearly every thrift market, antique shop, and resale shop in a 30 mile radius of my house. I'm trying to learn what's for sale, for how much and what really is selling. I'm making it known that I have a booth at a local antique mall and I'm trying to make sure that I'm realistic with my buying and pricing strategies.
So I walk into this brand new antique place - they'd been open a week. A 10-12 year old girl comes bounding out from the other room and asks if I need any help. Nope, I'm just walking around. I get to the gorgeous deep oval frame and I don't see a price. I ask the girl if she could find out the price on it. I decide that the frame is indeed the bees knees, but that saint is spectacular too. It was just a great pairing. The Dad comes out and sighs. His wife didn't price this before she left. Another big sigh. He's beginning to sound like my husband! He calls the wife. No answer. Finally he says - $25 for the frame and $40 on the saint. Good for him, they had a lot of carved saints and they were all $40, so he didn't have to guess on that.
If you know anything at all about picture frames - the oval ones are the most prized and the deep ones are prized even more. This photo was taken at my house where the oval frame and the saint are happily living on a dark burgundy wall in my living room.
A few hours later I saw that same man at an auction. He said that his wife was not at all pleased that he had given away the frame. I told him I knew he was going to get into trouble, but I couldn't help myself. I wasn't at all sure on the going rate for a 17" x 14" x 4.5" vintage oval frame but I knew that $25 was a steal. I have since learned that the oval frame could have fetched a hundred dollars or more.
Not everything that I discover goes into my booth. Some stuff just has to be mine.
Enjoy!
Kristin