I had never used Sazon Goya spice packages before, so when I was introduced to this recipe I ended up nicknaming it Sazon Goya - Also, I wasn't exactly sure how to say Asopao. Now that I know there are a dozen different Sazon Goya combinations, I see the error of my ways. Too late though, this dish is our Sazon Goya.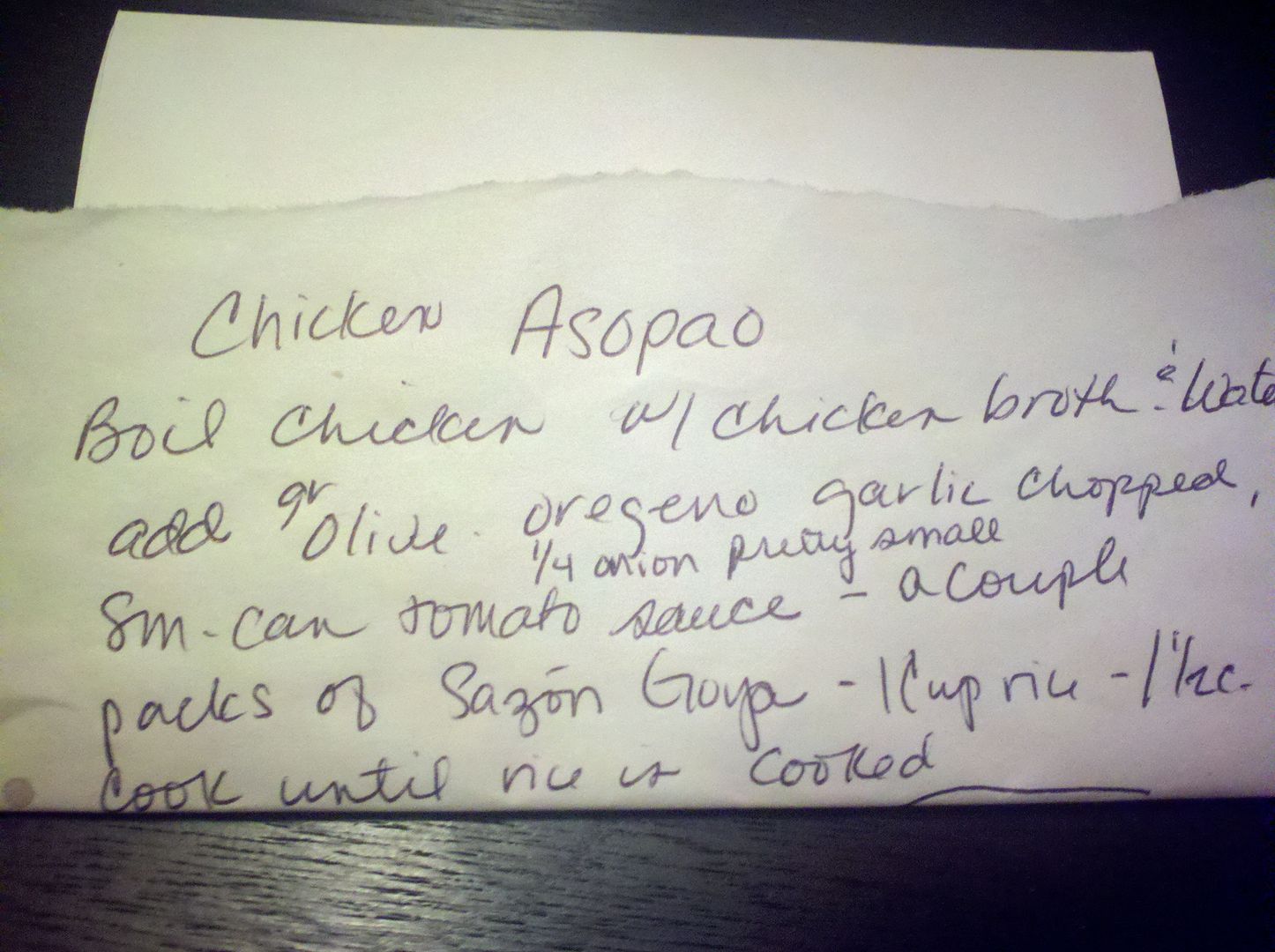 My Mom and I visited with a cousin one weekend and she made us this delicious meal. I think everyone in my family likes soup - everyone but me. I like the occasional creamy soup, but broth soup...ugh. I'll tolerate it. So you guessed it, she made us a broth soup.
Oh Goodness! This stuff was so good! It was so good that I asked for the recipe. It was so good that I came home and made it the next day. It was so good that I now make it at least once a month. It was that good. Thank you dear cousin for making this for us.
The first thing you do is get yourself a whole young chicken at the grocery store. I made the mistake of getting a hen one time - I wasn't paying attention and that was one tough chicken!
Don't make that mistake.
Get out your soup pot, put in the chicken, add water and chicken stock, if you'd like. Then give the chicken a good boiling. I usually boil the gizzards and neck along with it, to give it more flavor. When the chicken is cooked, take it out of the pot to cool and fish out the gizzards.
I usually let the chicken cool for an hour or so and then I take it all apart, shred the chicken into bite size pieces and add it back to the pot. Turn the heat back on because you've waited the sufficient amount of time so as not to burn-your-fingers-to-a-crisp pulling apart the chicken. Add a chopped onion, a jar of sliced green olives and all the liquid, a small can of tomato sauce and Sazon Goya to taste. Bring the soup to a boil and add in 1 - 1 1/2 cups of rice or quinoa. The soup is done when the rice or quinoa is done, about 30 minutes.
My cousin used rice and I did the first couple of times, too. The leftovers though became more like casserole than a soup. The rice had soaked up all of the broth. So I used quinoa and found that it did not continue soaking up the broth and stayed a lot more soupy. We now use the quinoa all the time.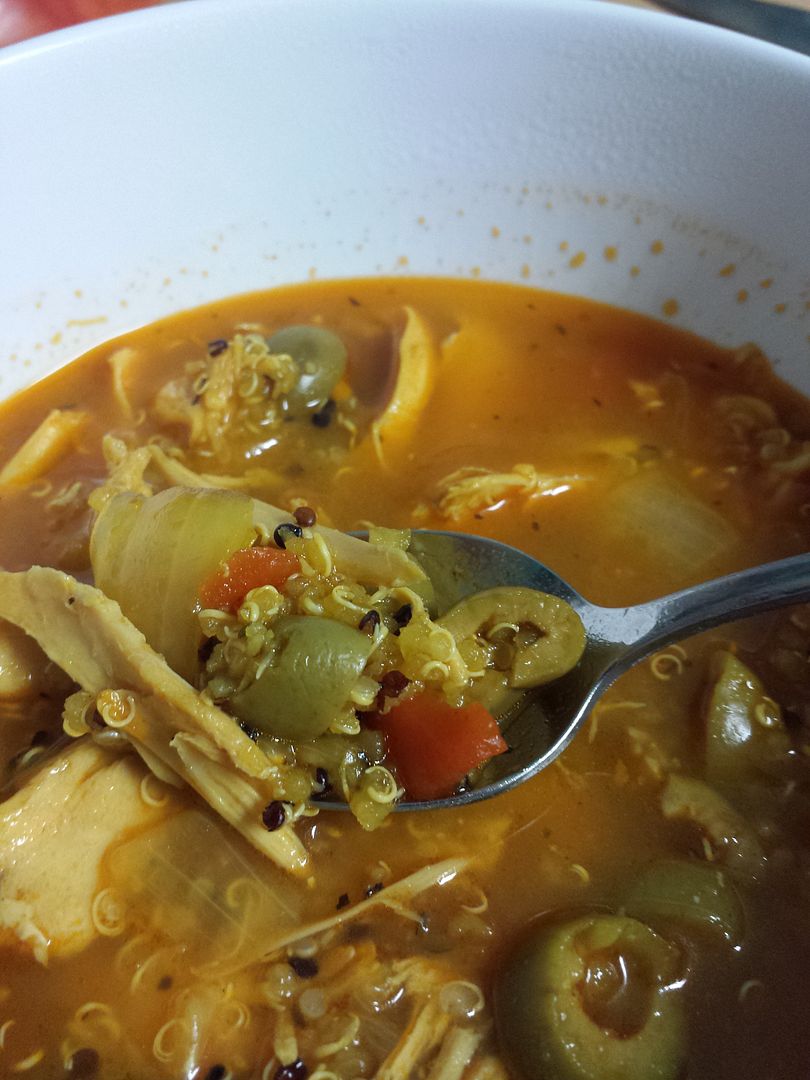 The last change that I made was to the Sazon Goya. I discovered that the regular Sazon Goya has MSG in it. I sometimes have issues with MSG so we decided to trade it out for another spice mix without MSG.
The original
The trade
If you don't have a problem with MSG, then I'd get one of the Sazon Goya spice mixes just because that's the way this was introduced to me. The one we used was the Coriander and Annatto. The Badia, no MSG was their Sazon Tropical. Both are delicious.
1 young chicken
water and stock to cover chicken
1 small jar of sliced green olives plus the liquid
1 onion chopped
2 cloves of garlic chopped
sm can of tomato sauce
2 pkgs Sazon Goya or 1 - 2 T. Sazon Tropical
1 - 1 1/2 cups rice or quinoa
Boil chicken in a large soup pot. Cover with water and chicken stock. When the chicken is cooked, take out, bone and shred. Put the shredded chicken back in pot. Add in the green olives and the liquid from the olives, the chopped onion and garlic, a small can of tomato sauce and the Sazon. Bring the soup up to a boil and add in the rice or quinoa. The soup is done when the rice/quinoa is fully cooked, about 25-30 minutes.
Serve it up!
Let me know if you try this. It's great for a crowd and also for leftovers. We usually freeze about a third of what we make for later in the month.
Have a great day!
Kristin