It's Friday Fragments Day!!
It's Friday Fragments Day!
It's Friday Fragments Day!
It's Friday Fragments Day!
It's Friday Fragments Day!
Welcome to
Friday Fragments
! This is the place where we're able to put little snippets of fun or interesting things together without having to stretch that idea into an entire blog post.
Mrs. 4444
is our lovely host and I am so grateful for her continued hosting of this fun carnival. For more
Friday Fragments
finds, please head on over to
Half-Past Kissin' Time.
Thanks!
*•-:¦:-•:*''''*:•-:¦:-•
I didn't put a tree this year. I love my Christmas tree and I love going through each and every ornament, but I go through this every couple of years and I just can't begin to put up the tree. I have a set of lights on the windows and I have the stockings hanging as well as a few other decorations, but not the full blown decorating thing.
I'm not even Bah-Humbug! I am loaded with Christmas Spirit, just not the tree.
*•-:¦:-•:*''''*:•-:¦:-•
I have this little Mexican clay Nativity set that I love, but I do something funny each year. Sometimes I don't notice until I put everything away after Christmas, but today I made it my photo of the day and so I noticed right away, but after editing. I rarely get the Joseph figure in the correct spot. Usually I put one of the Wisemen thereby mistake because he has this red heart looking box in his arms. I arranged my Nativity scene, took all of the photos I needed to pick out a good photo of the day, edited the photos, picked my favorite and added it to my 365 Photo Project calendar. Then I saw it. No Joseph. One Wiseman. Too funny.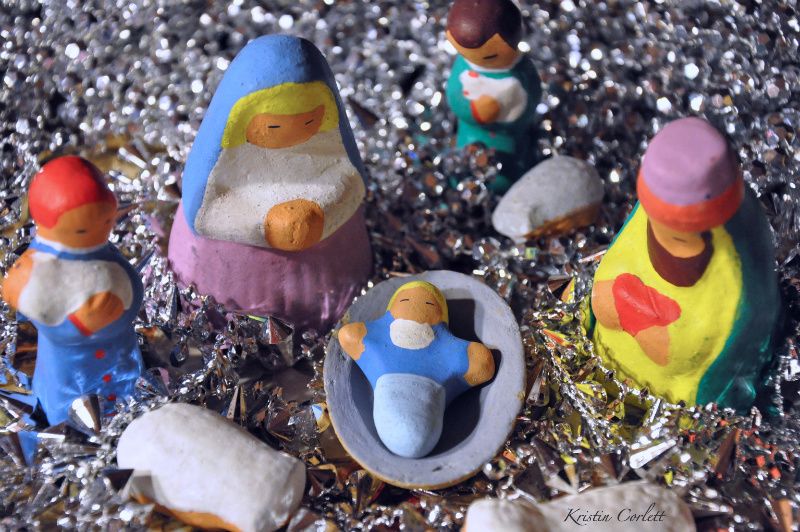 *•-:¦:-•:*''''*:•-:¦:-•
Our transplant community is having a Christmas Day dinner. This has been going on longer than I've been a part of the community, but it's so nice that I'm now more involved. I did make a suggestion this year and asked that the organizers listen to me -- I didn't like the food that we'd been served for the past few years -- so I asked if a few of us could make the side dishes and the organization could spring for the meat and dessert. Thankfully everyone agreed. Now I'm petrified that we won't have enough food. I just found out that we will have almost 50 people. I'll be a busy bee cooking Christmas morning!
*•-:¦:-•:*''''*:•-:¦:-•
I teased my husband when I got home yesterday afternoon that I could tell he was super busy because the dishes hadn't been done and the overflowing trash was still there. He never does those jobs anyway and I truly was just teasing. I went and took a nap, due to a short sleeping night, and when I got up he had done the dishes, taken out the trash and was at the store buying groceries for the week. I love those types of surprises.
*•-:¦:-•:*''''*:•-:¦:-•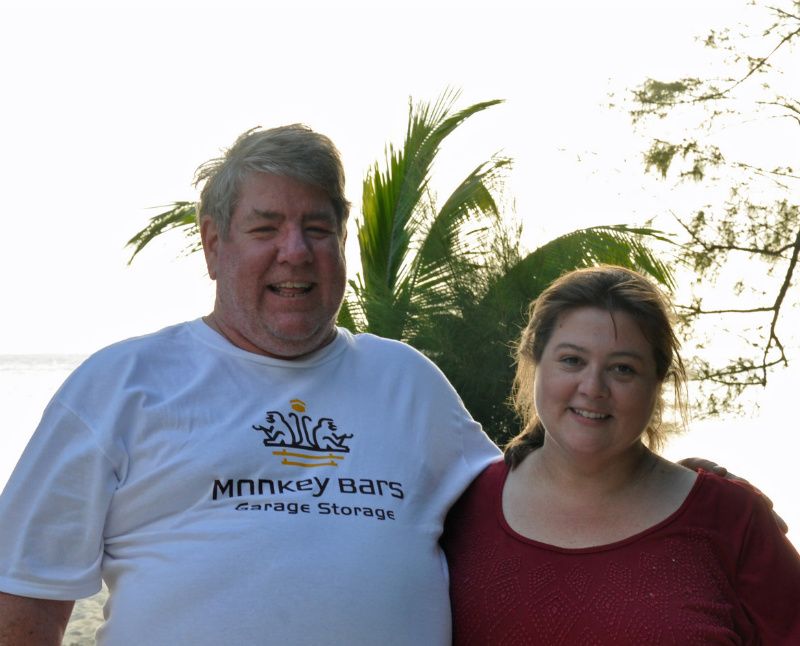 That's Tom and I just last week on Grand Cayman.
Pretend that the water is a gorgeous blue because it truly was!!
*•-:¦:-•:*''''*:•-:¦:-•
Today - 23 December 2011 - is the six year anniversary of my husband's liver transplant. What a blessing and what a Christmas gift it was for both of us. We have truly been blessed as Tom has really had very few complications since his transplant and is living a much happier life. He's still a grumpy guy, but those times come far less than they did pre transplant. :o) Who knew that one of the darkest times of our lives came to be the beginning of the happiest years of my life.
*•-:¦:-•:*''''*:•-:¦:-•
I hope that you are enjoying Hanukkah or Christmas or the Solstice or whatever it is that you celebrate this time of year. I also hope that you stop by Mrs. 4444's place for more
Friday Fragments
!
Have a great day!
Kristin