I have been so busy making treats and trees that I haven't even started decorating my house. I find that every couple of years I never actually get out my decorations! It's pretty easy to do since I don't have any children or parties at my house, but the main reason the non decorating happens is because I have a big event or vacation in December that takes up my time.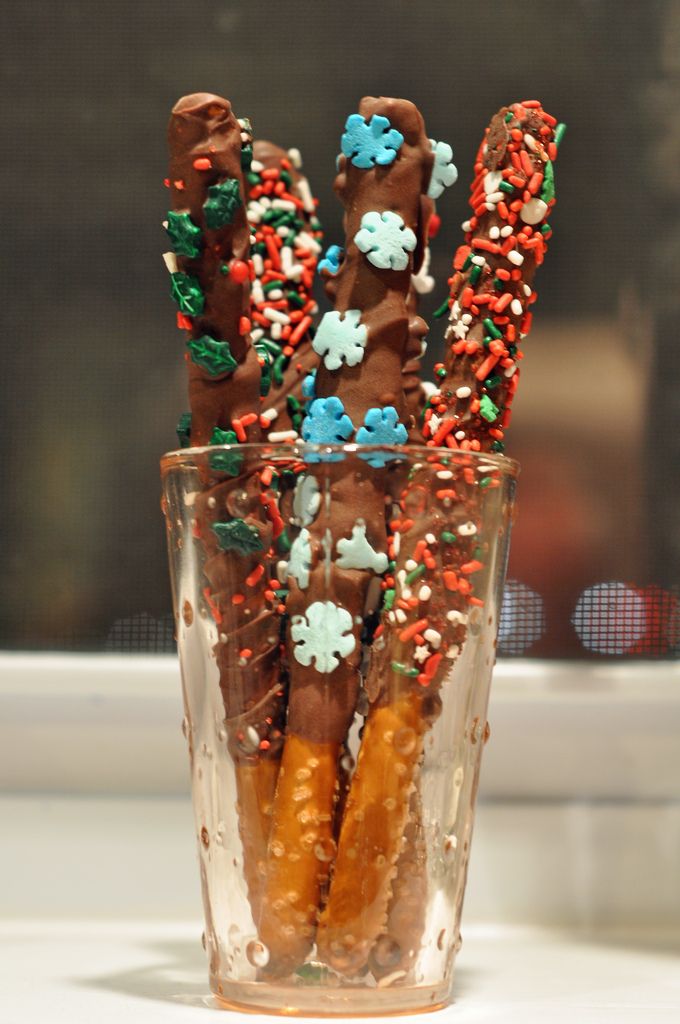 This year I have two things - I have the once a month potluck tonight and I've been doing the centerpieces for the tables. (those paper trees I blogged about the other day)
AND my husband and I are going on a cruise for our 10th Anniversary. Our wedding anniversary was in June, but a Christmas time cruise fit into our plans a bit better. So, I've been preparing to go away by getting the cat sitter all lined up and the mail tended and new clothes purchased and stuff mailed out to family and friends and and and -- the list is long.
Don't worry, I've broken up that TO DO list by making treats! I've never made Chocolate Covered Pretzel Rods before, but it was very easy to learn and I think they turned out great. This batch came out better than the first and that's just because I had better "sprinkles" for the outside. I bought regular sprinkles the other day and the yellow and orange and pink bits just didn't look right. I finally found some that were all red, white and green and it made for a much more cohesive look. I love the Chanukah Blues so I always like to add in a little of that when I'm making Christmas treats.
I made three different kinds of pretzel treats - white chocolate, milk chocolate and dark chocolate. The ones pictured are the milk. I ended up drizzling a little white chocolate over the top, but I never thought of getting a shot of them. Hopefully I'll remember to get a shot when I'm at the potluck.
I'm not taking my computer with me on our trip (shudder!!) so I'll probably only get to post a few times while gone - I'm assuming there is a computer/internet station on the ship. If not, then this blog is going to be very quiet for a few days.
Hope you have a wonderful day!
Kristin