I am completely and totally in love with this
wreath made of sliver platters
. Ever since I first saw it on
Pinterest
I have had my eye out for silver platters. I don't want to pay too much, obviously, because this wreath with 16 platters could get real pricey, real fast. I've already found a couple platters, but the other night at an auction I was SO excited because I won a box lot of silver plate that included several platters for $5. Five Dollars!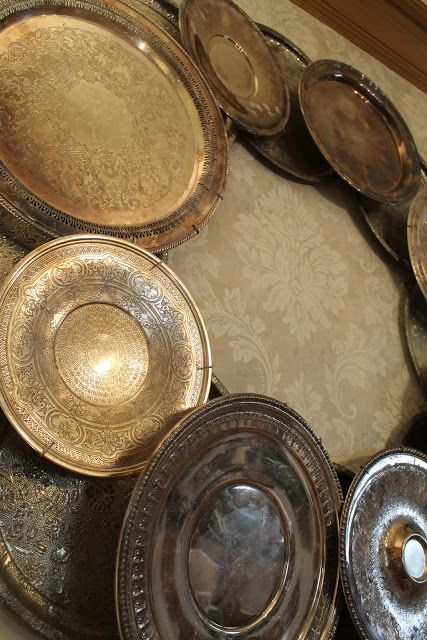 Those platters would put me just over 1/4 of the way around the circle. By Christmas time next year I could have the whole wreath! As fate would have it, there were two box lots of silver and the one with all the platters was given to the wrong person. I ended up with bowls and gravy boats. Not what I was hoping for. I left the box at the auction house, hoping that the person who got the wrong box would return it for the one they bid on and won. I'll find out in a couple of days if that happened.
crossing my fingers.
The two photos above are from the
Bachman House
Christmas of 2011. There are dozens of pictures of the interior all decorated and it's gorgeous! Take a look and enjoy.
I'm not taking this minor setback in my accumulation of platters dampen my enthusiasm. I will create this wreath and I intend to accomplish it this year, just in time for Christmas, 2013.
Have a great day!
Kristin
*Just saying Silver Platter makes me think of the Brady Bunch. Anyone else think of that, too?