A couple of years ago I started a list of 100 Things that make me Happy. I looked at the list yesterday and realized that I hadn't gotten to 100 things yet and it has been well over a year since I wrote a list. While I was getting my car serviced and I had an hour long wait ahead of me, I wrote down all of the things I'd posted so far and then HAPPILY added a few dozen more!
I'm still not at 100, but I find that to be just silly. I find things to be happy about each day, but so many of them are either hard to describe or are just fleeting moments of joy. The ones I've written so far are pretty standard daily happiness things.
If you'd like to read the entire list, so far, here are the links to
Part I
,
Part II
, and
Part III
.
61. My red plaid down blanket from Target. If I had known how awesome that blanket was going to be, I would have purchased more than one.
62. Finding excellent condition retro furniture. My heart just goes pitter pat! Even the stuff I can fix up is pretty awesome, but just seeing cool retro furniture is enough. Contrary to popular belief, I don't have to own or buy everything I like :)
63. Cleaning something really dirty until it shines like the top of the Chrysler Building!
64. Magic Erasers. Original and Extra Power. No scent, no bathroom bubbles, just Original or Extra Power.
65. A warm sunny day with no humidity. This makes me very very happy!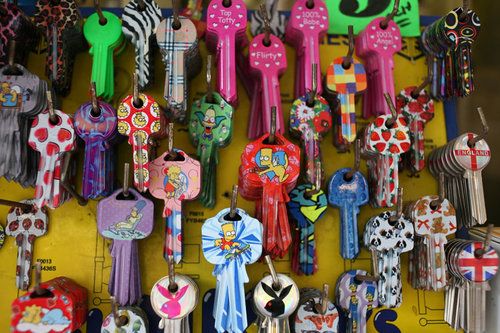 66. Having my keys made in cool designs.
67. Kissing. Yep, I'm a kisser. If a boy I wanted to date wasn't a good kisser then there was no hope for us!
68. The Liver Transplant Support Group meetings that I attend each Thursday. I love to go, to be with those people and to be a part of something so wonderful.
69. Thursday lunch with the Support Group friends is a highlight. This is where we chat and laugh and really get to know one another.
70. Receiving a message asking if I want to hang out, or have lunch, or meet up somewhere to take photos. I feel like I do a lot of asking, so when I get the invite I'm thrilled!
71. Finally being able to use the new calendar!
Ilee Papergoods
sells a gorgeous calendar. I didn't get one last year, after having one the previous two years and I missed it.
72. Going to an auction determined to come home with something and doing just that.
73. I am instantly happy when given a compliment. It's taken a long time to be able to accept the compliments and not try to brush them off as not true. It's good to feel happy about receiving them.
74. Painting Furniture. I enjoy painting furniture more than I ever would have imagined.
75. Receiving bread bag tags or fortune cookie fortunes from friends.
Have a Great Day!
Kristin