Have you ever tried these steamfresh bags? This is my favorite brand and type - the Birds Eye broccoli, cauliflower and carrots. I probably heat up 3 bags a week of this kind and 2 more bags of other veggie varieties. Needless to say, I'm quite savvy to the product.
Yesterday when I poured the freshly steamed veggies into my strainer...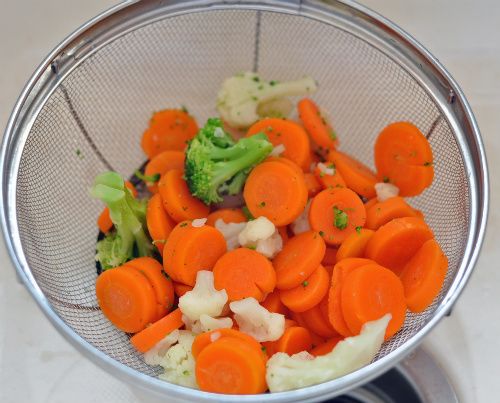 this is the assortment that I received!
That's a whole lotta carrots! I've never seen a package so heavily weighted to one veggie.
Goodness, I only received two little broccoli florets!
In my serving I took all of the broccoli and most of the cauliflower.
It wasn't hard to do.
I'm wondering if maybe I should send these photos to Birds Eye? Just as an FYI, not a complaint or anything.
Have a great day!
Kristin
UPDATE: I received this email 4/13/11 after I sent a message explaining the situation. I stated that I wasn't upset or anything just wanted to let them know.
Dear Valued Consumer,
Thank you for taking the time to contact us to share your concern regarding your recent purchase of Birds Eye Broccoli, Cauliflower, & Carrots. You will receive a full value coupon in the mail in seven to ten business days.
Ingredients within a product blend are proportioned by weight according to product specifications. During processing, scale mechanisms deposit the ingredients onto a belt or shaker along with the other ingredients in the recipe and are blended together just prior to packaging. We have worked diligently with our Quality Assurance teams to optimize the consistency of the mix ratios and feedback such as yours encourages us to continue improvements processes for an optimal finished product.
The quality of our products is of the utmost importance and feedback from loyal consumers like you ensure that we continue to make improvements. I trust that you will continue to use Birds Eye Broccoli, Cauliflower, & Carrots with confidence and that your next experience will be a better one.
Sincerely,
Hollie Allen
Consumer Relations Representative