I can't remember where I got this idea, but I really started thinking about it when I was organizing (Ha! Stash and Dash is more like it) and I kept finding these little pictures or fun things that I tore out of magazines. I never felt like these things were scrapbook worthy because I don't really have photos of people, it is just interesting things to me.
So, I decided that it would be "safe" to glue them onto a lunch sack. Each sack can then be put with the others to form a journal, someday. But for right now, it is safe. I don't have to dedicate an entire book to the process, if I don't like a page I just don't have to include it (unlike in a journal, where I'd have to rip the page out or try to live with the fact that I didn't like it) and I like that I can tuck photos or stuff I don't want glued, into the sack and just fold the end over to keep it in place.
I've made 9 sacks so far. Here are a few pictures.
Here are a few of them, displayed for the moment, while I take the picture on a really cool bench that we bought at Hold Everything before they went out of business. I loved that store.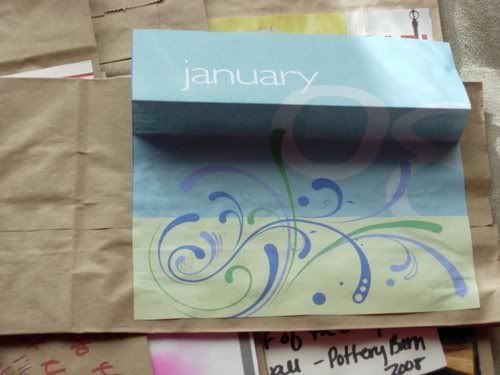 This is a great looking graphic from the magazine Skirt. I folded the paper so that I didn't have to crop it any smaller - I like being able to just fold a piece to fit - it makes it more casual, just like the paper lunch sacks. Casual, we like casual lol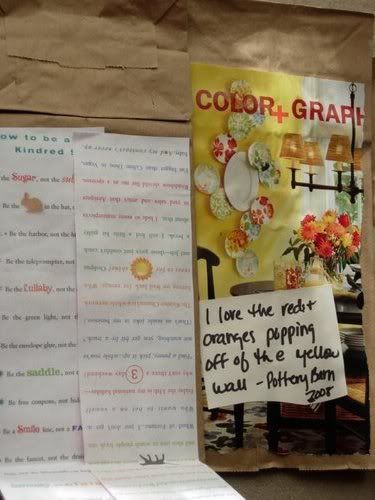 One bag has two fun things also from Skirt Magazine and the other, you can probably read, is a cut out from the last pottery barn catalog. I just love those dishes. I also LOVE yellow walls. My bedroom has been painted yellow in the last three places we have lived. Not sure if plates belong in a bedroom though lol
This is just chock full of numbers, letters, artwork and an organizing system (it also folds out) all from the pottery barn catalog.
Right now I have the paper sack journal clipped together with a binder clip. I really like it. I seem to be able to get "crafty" for just a few minutes - get out the paper, the scissors, a sharpie and the glue stick and I'm set -- 10 minutes later I've satisfied my crafting urge and I've hardly messed up the desk or the coffee table - Bonus!
Have a Great Day!
Kristin