It Rocks and Rolls!
Some days are just meant to go a certain way.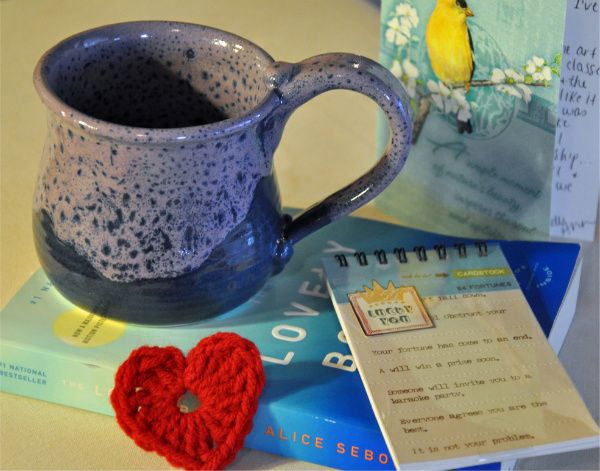 Well, the
rocking
part of this post is that when I got home from my Dr. appointment I had a gift in the mail!!! I knew it was coming because
Ruth Ann
called me to ask if I had read "The Lovely Bones" yet and if not, she'd put it in the box she was sending. As you can see - I hadn't :)
Blogging friends are just so much fun. You just never know what kind of tricks they have up their sleeves. Well
Ruth Ann
likes to send out gifts I've discovered. We met one year ago when we both were a part of a Valentines Day swap and we were paired up. We sent each other some fun Valentine items, but then for my birthday she sent me a package and now she's sent another gift. She's crazy I tell ya! But I have to admit, I love what she sends!! She said in her card that she knew I loved pottery and the color purple, so when she saw this mug in her local pottery store she had to get it. I agree! I'd have had to get it, too.
...and then she sent a book of fortunes. I can't wait to go through them. I talked recently about my
jar full of fortune cookie fortunes
, but I'll like these because I can give these away to unsuspecting people. I can't wait.
Then that adorable heart. She said that she learned how to make it by watching a tutorial on YouTube. How great is that! I love it.
Thanks Ruth Ann - you are so sweet. It has been a real pleasure knowing you this past year. I'm sure we'll be friends for many many more years to come :)
Before I got that fabulous gift in the mail...
I was actually kind of happy to go to my dermatology appointment today. I had a few questions to ask, so that was part of it, but the other part was that I was wanting to go do a little bit of shopping on that side of town.
There is a Fresh Market near the Drs office and a Marshall's store, too. I needed two shirts. I actually needed two specific shirts. They needed to go with the specific outfits that I have chosen for my Rome trip. I'm trying so hard to get my clothing down to a bare minimum, but also to be able to wear layers if I get cold - so everything really needs to work together. I was two shirts shy of making it all possible.
Fortunately, I found exactly what I was looking for at Marshalls. On my list of things to get for the trip was a new suitcase. The suitcase that I was planning on taking tips over. I'm used to it, but it is quite anoying. However, when I'm also taking a carry-on bag, having one tip over is just not convenient. THEN, I thought I'd take another bag that we have, but my husband is going to need it while I'm gone and it's a teeny bit small. The only other suitcase we have is big enough for two people for two weeks. Just a tad too big for this trip.
So, what does this mean?? This means that I needed to get a new suitcase.
and Marshalls came through!!
This is what Rolls!
I found several rolling suitcases there, but this little silver one was my favorite. It's a flexible hard side bag with an expandable middle section. It has four sets of double wheels - it rolls, glides and spins. I will be able to push it, pull it, or have it roll along side me. This suitcase actually weighs less than my other suitcase that is half the size. I'm thrilled.
I suppose you see that little turquoise bag next to the silver one. This was the find of the week. I was so excited when I saw it. It solves a problem that I was having. I wanted to take my computer bag, but it doesn't hold my camera. I wanted to take a smaller purse, but it also doesn't hold my camera. So this meant that I was going to have to take a giant purse so that I could stow my camera when not in use and also take my computer bag. BUT this little bag solves all of that - it's a rolling bag (!!!) and it will hold my computer, my purse, my camera all of my carryon items and an extra set of clothes - just in case my new suitcase doesn't arrive right away.
It was a great day and I am now ready for Rome - we're just barely over 7 days from take off.
I can't wait!
(Thanks again Ruth Ann! You are such a doll)
Kristin