Have you ever received an artfully decorated envelope?
Well, Klaus Flugge certainly has. He was a children's book publisher and those creative illustrator types loved to send him interesting correspondence. I found this article on the
Letter Writers Alliance
website with a link to the
Guardian.co.uk
site.
Klaus Flugge: 'I am immensely proud to be the recipient and owner of almost 100 envelopes from talented artists such as David McKee, Satoshi Kitamura, Tony Ross and others.

'David McKee came across a book of illustrated envelopes entitled Letters to Georgio by the well known French artist Jean-Michel Folon which inspired him to start the collection. His first few envelopes were displayed in my office, and influenced other artists working for Andersen Press to do the same.' (quote from guardian.co.uk)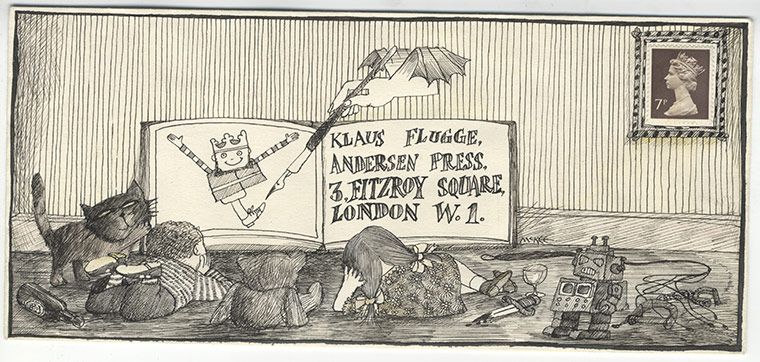 I have a stack of cards sitting beside me right now because I have several letters I want to write. Sometimes I cut out something interesting and tape it to the envelope, or I print a photo on a sticker label and put that on front - but I don't think I'd ever be able to create a scene like these. There are a total of 13 envelopes on the
UK site
. Be sure and look at them all - They're great!
Have a great weekend!!
Kristin