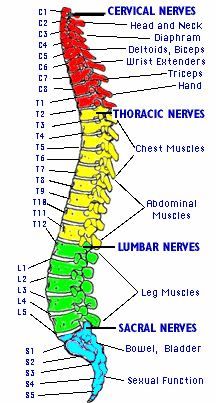 The Spine.
You know it's there when it hurts, that's for sure.
Something happened to me over the weekend and I pulled, pinched or tore something around the C5 - C7 area of my spine. I have bent and twisted and tried to get the kinks out, but there's no unkinking it. My problem is that I have this spot of pain that doesn't go away no matter what type of pain reliever I take and my arms have been going numb intermittently. Today however, my right arm has been numb all day.
I've never been to a Chiropractor and have always been very nervous about anyone touching me - anything more than a hug and I'm freaked out. I don't like my shoulders rubbed, my back scratched or my feet worked on. When I realized that I needed to go to the Chiropractor, I swear my heart started beating out of my chest. I'm such a pansy sometimes.
I went for the evaluation, a few xrays and consultation. Tomorrow (Thursday) I'm going back to see what the xrays showed and hopefully something can be done.
I'm used to being the caregiver - I'm not liking this "being the patient" kind of thing. Here's to hoping that it's purely temporary and that within a few days the kink can be unkinked. I'll surely let you know!
Have a great day!
Kristin