The past week or two my life seems to have been all about the potluck.
I've been to four in a little over a week. Two of them I didn't bring anything (gasp!) but for the other two I worried and fretted about what to make for days.
I have some Go-To potluck favorites, but for some reason I didn't want to make any of those.
My Go To's are:
Rice Salad
BBQ Meatloaf
Spinach Salad
Sour Cream Noodle Bake (
From Pioneer Woman's site
)
Scalloped Corn (bread)
Spinach Ravioli Bake
is a new to me dish. Mrs. 4444's posted it on her
Cooks
blog. It was a big hit so I made that along with the Birthday Cake Treats. I have trouble just making one thing for potluck.
I tend not to make new recipes for Tom and I, but I am perfectly willing to try something out on our potluck groups. It's easy to see if the food is a hit or not and I get to find out if my husband likes the dish without having to make a giant amount for just the two of us.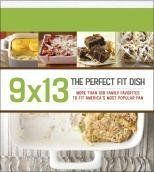 Friday I went to a few estate sales where I found very little worth the time or effort to pick up. One place though had hundreds of cookbooks for $1 - $3, with 35% off because it was the second day of the sale. I thought I'd get a cookbook or two for my new craft project, but what I found instead was the "
9x13 The Perfect Fit Dish
" cookbook. It was a 2010 First Edition. I got it for 70¢.
The new-to-me book in hand and I was ready to make something different in my 9 x 13 pan.
After much consideration I chose:
Chicken Lasagna Rolls with chive-cream sauce. (also found at
Recipe.com
)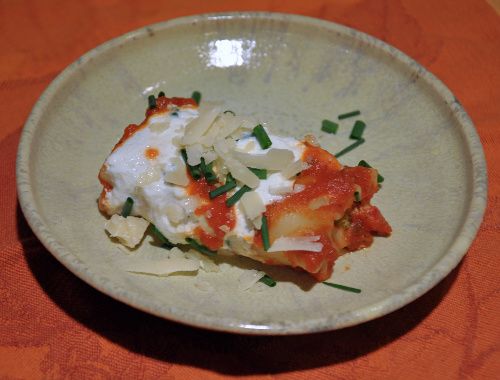 I will be posting my photos & recipe sometime this week for this dish - OH and I still haven't posted the Spinach Ravioli Bake. I'll have to do that, too. It must be food week here at The Goat!
It was totally different for me but I had a good time making it, but wouldn't you know it, three lasagnas were at this potluck. Still, mine was gobbled up and I came home with an empty pan. I made a double batch though, so I baked the second pan when we got home. Now we have little lunches or snacks for the rest of the week!
Thankfully I think I've only had one dud in my four years of trying out new foods at potluck. Unfortunately I can't seem to remember what it was! Some dishes I could never make for us at home, like the Rice Krispies Treats, I'd have no willpower in resisting a dozen of them, but it's fun to make them for a group.
Have a wonderful beginning to your week!
Kristin