One of my husbands favorite potluck foods is Spinach Salad. The reason I call it Pot-Luck food is that is about the only time I think about making it. He just loves it and we both know that we've got one thing that we love.
Thursday, Tom and I attended the first potluck dinner with the Liver Transplant group since our summer break. For some reason there aren't as many people available in the summertime...which to me is just crazy. Jacksonville, FL in the summer is HOT! I spend a lot of time indoors in the summertime and would love to have potluck once a month, but hey, I'm not in charge of the group. When I'm in charge, we're having potluck in the summer.
(update - 2015 - I am in charge now and we have potluck on the 2nd Thursday of each month all year- insert giant smile)
So, Thursday we all met up for dinner. Three people made baked ziti. Three! I couldn't believe it. We had one tossed salad, my spinach salad, corn bread, beef stew (It was excellent!!!), a macaroni salad, baked beans, watermelon, a vegetable platter, chicken and rice, and of course dessert - two chocolate cakes and a pan of brownies. I meant to take a picture of the spread, but I got to chatting with people and totally forgot my duties.
The neatest thing about the transplant group potluck is that everything is homemade. Most of these people are immune suppressed in some way or another, so take-out is always a little iffy. If we make our food at home, we are all very aware of how carefully everything needs to be washed and rinsed and cooked. Transplant patients are not supposed to eat from buffets, but once again, since we are all in the same boat, the assumption is that all the food is "safe."
I'm glad that the potluck dinners have started back up again. I am already looking forward to the one next month.
I scooped out a little salad from the scant leftovers and put it on one of my tiny little condiment plates. I love them. (I got them at World Market) It didn't look quite right just sitting on the counter, so I propped it up against some plum tomatoes and that just did the trick.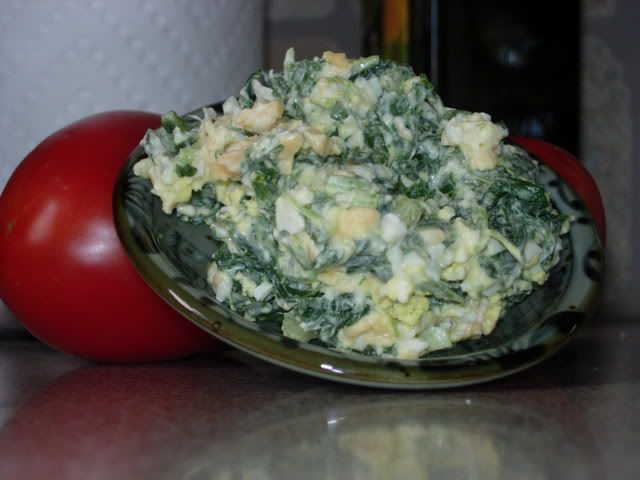 Spinach Salad
from the recipe collection of Judith Bridger
2 - 10 oz pkgs frozen chopped spinach (thaw and drain)
½ c chopped celery
½ c chopped green onion
1c sharp cheese
3-4 large hard boiled eggs
1½ t salt
1½ t Tabasco
1½ t vinegar
1c Hellman's Real Mayonnaise
In a large bowl combine all of the ingredients, except the egg yolks. Thaw and drain the spinach. Get as much of the water out as possible, so that the spinach is almost bone dry. I use a mini food processor and I chop up the egg whites, the egg yolks (set those aside) and then I chop up the cheese into small pieces. You can also cube the cheese if you'd like.
When serving this to a large group I add in extra celery, green onion and an extra egg.
Mix all the ingredients real well, put into a serving dish and top the whole thing with the egg yolks. Refrigerate for about an hour to allow the flavors mix. You may serve with horseradish on the side.
Serves 6 or more.