The Wedding Date (2005)
is one of my favorite movies. It is what I call one of my "Go-To" movies. It's a movie that I can turn on and I don't need to sit and watch it. I can do dishes, clean the house, work on the computer. I've seen the movie so many times that I know it by heart. I know each scene and I know what's coming up. The movie is pretty much at the same volume, too, so I'm not all of a sudden blasted out by some music.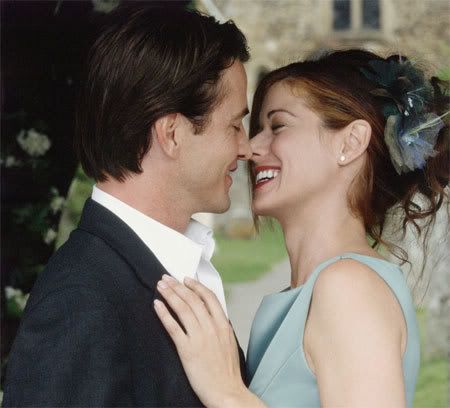 The main characters are Kat Ellis (Debra Messing) and Nick Mercer (Dermot Mulroney) and she has hired him to be her escort to a wedding. The wedding is in England - one of my favorite backdrops for a movie - Four Weddings and a Funeral (1994), The Holiday (2006) & Love Actually (2003) all have England as their location in part.
The thing that gets me the most in The Wedding Date, is the music. If you knew me, you'd know that music just isn't a huge part of my life. I don't listen to music in the car, I don't have an iPod or a CD player or anything that plays music. I listen to talk radio and if I'm on a long trip, I listen to audiobooks. I stopped listening to music around 1988 when my car only had an AM radio. LOL Anyway, the music in this movie is just so lovely. I hum it all day after watching the movie. Besides having an Air Supply song being sung by Dermot Mulroney (too fun!) the most memorable songs are those sung by
Michael Bublé.
These three songs get me every time - "Sway", "Home", and "Save the Last Dance for Me."
This movie was given One Star! Ugh. I can't believe it. One Star? No matter - I loved it. Very little foul language, nice music and fun characters. Ignore the fact that the Nick Mercer is really just a high class prostitute or that someone else is having an affair in the movie - I can actually see it as wholesome LOL OK, so she does pay him $6000 to come to England with her, but really, It's wholesome! They do say the word "shag" but that just sounds much more funny than sexual.
If you haven't seen it, go ahead and watch it knowing ahead of time that some dorky girl from Florida has seen it only a million times. It's a Chick Flick for sure.
Have a great day!
Kristin