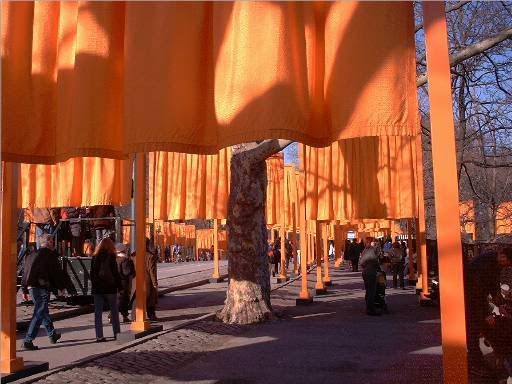 I watched a documentary on HBO this afternoon called "
The Gates
." It was just fascinating at times and a little slow in others, but mostly it was just a great story about art, Central Park and New York City. I've got it on my DVR right now. The Gates were the art project of
Christo and Jeanne-Claude
. The exhibition in Central Park was February 12 through February 27, 2005.
If you'd like to see a quick time-line of the Christo project
Click Here.
I can hardly believe that it took 25 years to see this project to fruition. This time-line even shows some of the manufacturing plants and storage places for all of the pieces and parts of the art installation.
My sister, Alison, and her husband, Jim, were fortunate enough to go to NYC while the gates were up. They took a ton of pictures and sent them back for all of us who couldn't make it. (I just sent Alison an email asking for a comment on the gates, so I'll update when I get a response from her) UPDATE! In Alison's email she said...
I think one of the most impressive things is very much like you said about the color chosen. One could get a great sense of how enormous the park is by the winding paths glowing in electric orange. The simplicity of design and concept in general was amazing...and the name, The Gates, has many different meanings. And unlike much of the public artwork in cities, this installation could absolutely not be passed by without being noticed. I presume it made a lasting impression (good or bad) on everyone who experienced it.

Because it was a once-in-a-lifetime experience that makes seeing it even more special.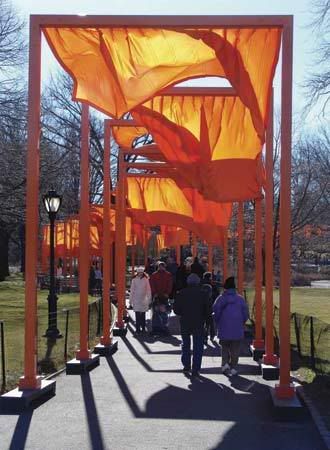 I remember my own opinion of the gates when I first saw them on TV. I thought it was insane to have the gates the exact color of construction barrels. When looking at a birds eye view of the gates, it did look like a huge line of orange cones. However, when I saw close up photos or videos of the gates they became much more beautiful. I love how they move and swish. The color is gorgeous when the sun shines through the fabric and the park seems to be incredibly alive in the dead of winter, by the saffron color of the gates. Central Park saw record number of visitors, too.
I would have enjoyed seeing this in person, but I feel like I was able to experience some of The Gates by watching the documentary...which is just ending as I end my post. Great timing!
Hope you have a fantastic day & enjoy some art today.
Kristin