Earlier this year I was helping my Mother clean out her kitchen, getting things ready for her kitchen remodel. We came across this Children's Cookbook called Little Mother's Cook Book by Jack O'Hara. The book was originally published in 1952 by the Pixie Press, Inc. Kansas City, Missouri
I remember that cookbook, I remember it well.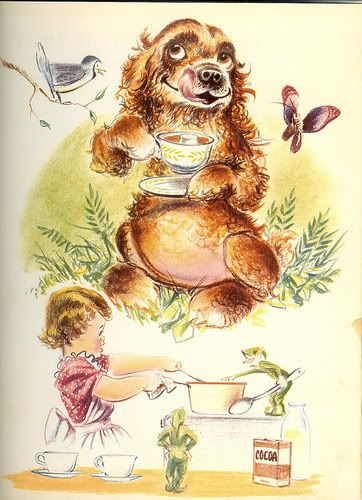 There are 12 recipes in the little book and a page with Kitchen Rules. This first photo is of Dicky the Dog. LOL He's a puppy actually and his favorite treat is Hot Cocoa.
This next one is of Kitty Kitten and she likes Snickerdoodle Cream. I never made this one as a kid - although I do like ice cream. I love the look on the little girls face, with her tongue sticking out - how cute!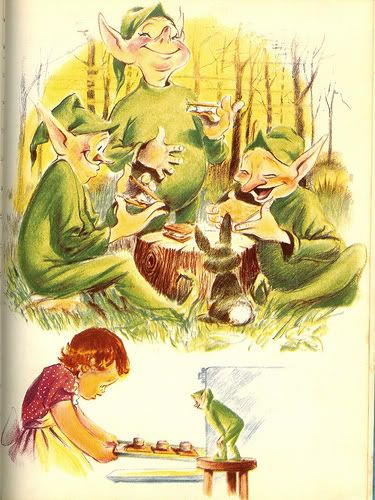 The next page is the Pixie's Marshmallow Delight. I have only ever had these out by a campfire. (and that was probably in 1982 when I went to camp) but the other reason I have only ever had these by a campfire is because my mother didn't normally have chocolate, graham crackers or marshmallows in the house. We were more of a natural peanut butter and honey sort of household.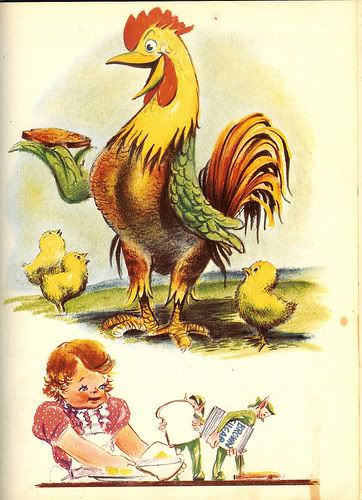 This last picture is of Ronny Rooster and he made Sugar Toast. THIS my friends, this I made. I thought it was THE most delicious food ever made. I didn't know it at the time, but I was a big fan of sugar - so sugar toast was right up my alley lol This recipe called for brown sugar, butter and cinnamon. I'm almost positive that I didn't use brown sugar because it was normally a large rock. We used brown sugar for baking a few times a year and inbetween those times the brown sugar would harden to the point of being unusable. So I'm pretty sure that I used just regular white sugar when I first tried this recipe.
Also included in this cookbook are recipes for a honey drink (I remember making that), tea party sandwiches (Made that), pear salad (I made that, too!), chocolate milk, tossed salad, jello dessert (never made that), scrambled eggs and burgers. Goodness, I think I learned how to make all of those basics from this book.
If you ever want to pick up a fun cookbook for you or a child in your life, go onto eBay and take a look for this book. My Mother said that she wanted to use this cookbook with her granddaughters, so I didn't pout at all when I didn't get to take it home with me. (I may have thought about pouting, though, just briefly)
Instead...I went on Google and did a search for this treasure. I am now the proud owner of Melinda Murdock's book. She was probably 4 or 5 when she wrote her name in this book. I'm so happy to have this book. I must have flipped through it 20 times since I got it. It is pretty beat up - the front and back covers of the book have held on because they are glued to the first and last pages of the book. The paper spine has long since vanished, but thankfully the books binding is still intact. Melinda Murdock liked her pencil. She drew in the book with pencil in several places. I'm happy that she used pencil instead of crayon because the pencil graffiti is hardly noticeable. I'm quite happy with my new "old" copy. I'm glad I went and found my own.
It makes me so happy that my nieces may also be able to learn to put together a few fun foods from the same book I used. I'll have to ask my sister if she ever cooked from this book.
Have a great day!
Kristin