This is Karen's home in Dickens, Nebraska. This house was moved to this location - it used to be her grandmother's home. The house really doesn't lean backwards...it was the photographers fault on that one. Wonder who took that picture? I bet it was Stella, the 5 month old.
This is Karen and my mother, Judith. Karen made me take her picture several times, as she kept telling me that her mouth was crooked - I told her that she had a crooked mouth! LOL I couldn't change that and we loved that about her. So she finally agreed to this photo.
Now I'm going to take you on a short trip around Karen's house. I love all the old woodwork and details in this house. Karen updated the kitchen at one point, but really never updated the rest of the house. This is the medicine cabinet in the bathroom. I loved the hinges.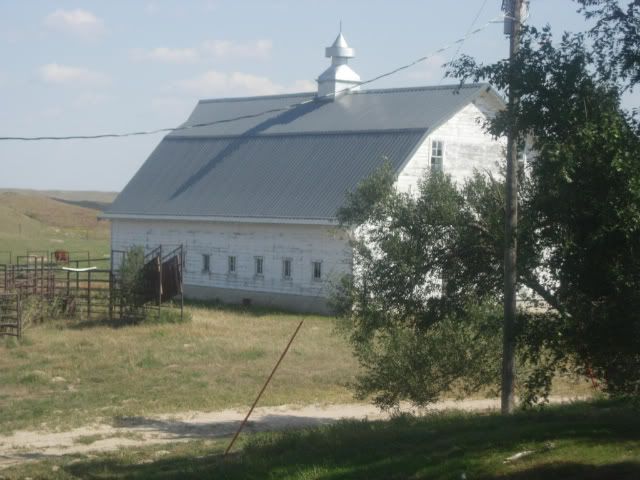 This is the barn. I took this picture from the living room window. I thought about traipsing outside to take this photo of this beautiful barn, but the little sand burrs were everywhere and I didn't really want to have to pull off a thousand of them off my pants and shoes. So the livingroom it was.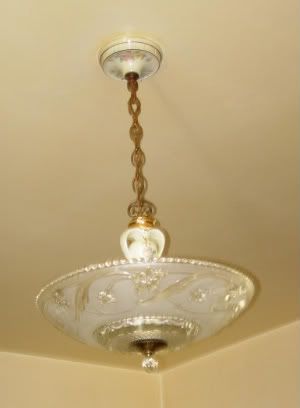 The livingroom and diningroom both had this chandelier. It is just so lovely and simple - yet it has a lot of details to it as well. The medallion on the ceiling and the little "vase" piece just down the chain a bit are so unusual. This is probably a very common piece for this era house, but I was fascinated by it.
This picture is mostly of the cabinet in the archway. There is an identical piece on the other side. The next picture is the backside of the other cabinet. Isn't that cool? The cabinet is built right into the archways. Karen's cabinets were filled with assorted glass dishes, salt cellars and glassware.
I posted this picture yesterday when I talked about the rabbit ears, but today look at the backside of the cabinet tucked into the arch.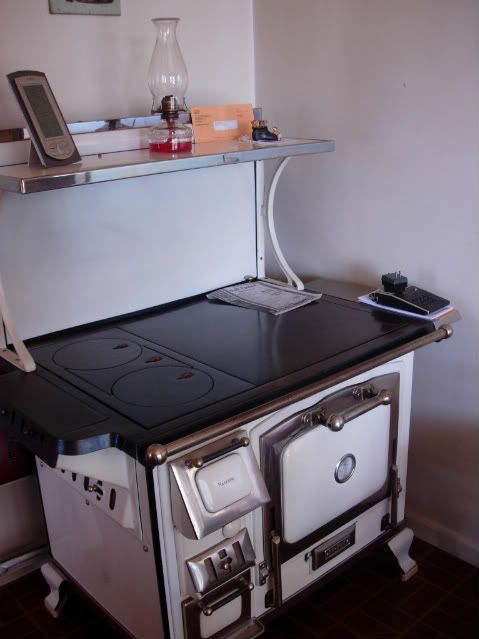 This old stove just sits in the corner of Karen's kitchen. Looks like she uses it as a little message center. It is beautiful. I recall that stove from the last time I visited when I was a teenager. I don't remember a lot about the house or the farm, but I immediately recognized the old stove.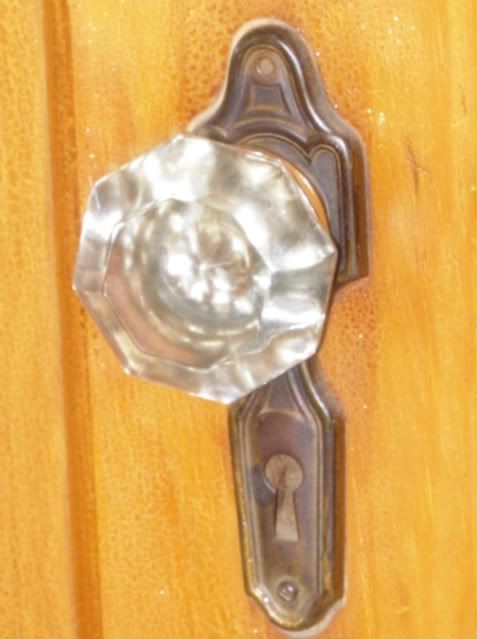 and last but not least is this beautiful glass doorknob and plate. I'm a sucker for glass doorknobs.
Hope you enjoyed the quicky peek at some of my favorite things about the little old house in Dickens.
Have a great day!
Kristin