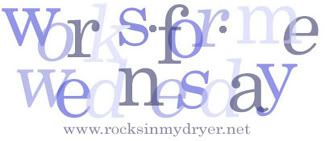 This week
Rocks in my Dryer
is hosting a backwards edition of Works For Me Wednesday where the reader (you!) is asked to help solve a problem. Shannon's blog will have hundreds of people posting their requests for help...so when you have helped me out, please go over and see what else needs your attention.
Tis the Season!
Birthdays are coming up and Christmas is few months away. I would like to know where you like to shop online.
What are your favorite Etsy stores?
Do you have a favorite there?
Do you get everything through Amazon.com?
How about Overstock? any luck with them?
Got a friend or family member that you want to give a shout out to? Go ahead!

I have two nieces that are going to need some gifts (4½ and just under a year old, by Christmas time) so I'd love some ideas for those girls, too.
So spill the beans - where do you shop online?
Leave links in the comments section and I will update this post with clickable links from those that got posted. I know that sometimes the urls are too long and aren't clickable in the comment section...but they come through in my email.

Have a Fabulous Day!

UPDATE - Here are the links from the comments, so far...
There are some real gems in here. OOoooh I can't wait to start browsing.


UPDATE 6 Sept 08
I think I have gotten all of the links from the comments. There are some really great finds in here. Thanks to everyone who commented!

Kristin

James Avery Jewelry
Café Sola—Coffee with a Purpose
Ten Thousand Villages
Uncommon Goods
A World of Good
Spoon Sisters
Red Envelope
Creative Kids Stuff
Amazon
Old Navy
iTunes
Sassy Onesies
Aubreys's picks on her blog
Baby Center Store
Baby Cheapskate
Gotta Deal
Lillian Vernon
Etsy - Jeweled Bloosoms

Etsy - Letter perfect Designs
Etsy - K Voss Designs
vol25
Growth Charts N' More
Nestlings
The Vintage Pearl
Little Brown House
Renee's Funky Country
Sierra Trading Post
Zappos.com
Bluefly.com
cooking.com
drugstore.com
Occasion Bags
My Kids Store