It's
Friday Fragment
day!! I love FF day. I always seem to have a lot of little things that I must say, but that really don't need an entire blog post devoted to the thought. There are a lot of others like me and a lot of them are just a hoot! To meet the other Friday Fragmentors, please head on over to
Half Past Kissing Time
and see what Mrs. 4444's (Mrs. Fours) has written and see who all has already posted their FFs.
*•-:¦:-•:*''''*:•-:¦:-•
I'm in Gulf Shores Alabama this week and I'm so sore I can barely get off the couch! My mom and I have been removing wallpaper and getting the walls in the master bathroom ready for paint. I have never seen walls in such disrepair - goodness. I think we have spackled almost the entire wall. The wallpaper was actually fairly easy to remove with the steamer. Well, today I have to sand a few more spots, probably spackle a few more spots, but we are absolutely painting today.
*•-:¦:-•:*''''*:•-:¦:-•
I'd be upset about taking up so much outdoor beach time with wallpaper removal and subsequent painting, but honestly, I'm not a beach person - and it's been cold and windy this whole week.
Today (and this weekend) however, is the Fairhope, AL art fair and it's sunny! It's supposed to be 73º today and tomorrow. What a blessing. I'm also meeting two of my blogging friends - one I have met before and one I haven't. Expect a lot of camera clicking as we are going to
have to
blog about it!
*•-:¦:-•:*''''*:•-:¦:-•
Overheard in my travels -- These are both so funny! Enjoy!
A man and his three children get out of the car and walk toward the grocery store. The 6 year old girl, the oldest of the children, says to her 4 year old brother, "I have three whole pieces of gum left. If you don't' talk for the rest of the day, I'll give them to you."
~~~~~~~~~~~~~~~~~
A 17 year old girl locks her keys in the car. She calls her mom and tells her what has happened and that she doesn't want to have to tell her dad about the event because he's going to be mad. She decides to call the lock out service anyway because what else is she to do??!! She has to be on her way and there is no other way to get the keys to open the door.
The lock out service guy arrives within the hour and when he notices that the two back windows on the car are open. He says to the 17 year old "Did you know your back windows were open?"
The girls says "Oh yes! I always drive with my back windows down because if I roll down down the front windows, it blows my hair."
The service guy says once again, "Did you realize that the windows were down when you called?"
She says, "Yes, I just told you why they were down."
He reaches in the back window and unlocks the door for her.
He chose not to charge her for the service call.
I bet his laughter was the best payment he's had all month!
*•-:¦:-•:*''''*:•-:¦:-•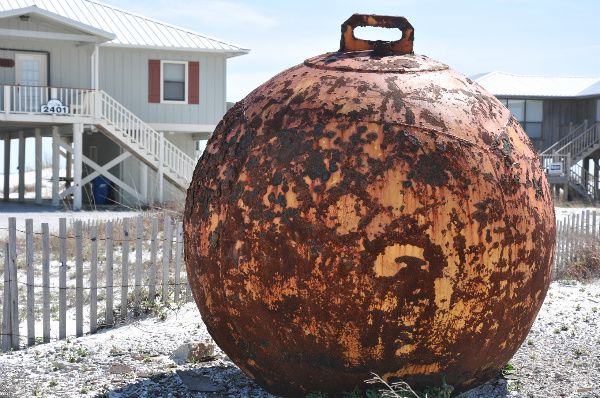 I saw this rusted wrecking ball sitting out in front of these houses along the beach road in Gulf Shores, AL. The ball isn't just abandoned, it's actually art. I thought it was so incredibly cool. I'm not sure if it's supposed to signify the destruction of homes from hurricane Ivan or if someone asked for it to be left - either way, or whatever the reason, I love it.
*•-:¦:-•:*''''*:•-:¦:-•
I'm going brag on my sister's husband, my brother-in-law, Jim, for a few minutes. He got some exciting career news the other day.
I'm going to be the first-call keyboard player for LA based singer Janiva Magness (www.janivamagness.com). She's still kind of under the radar (though she's a star in the blues world), but she won the 2009 BB King Entertainer of the Year Award at the Blues Music Awards last year, has been getting write-ups and reviews in major publications like USA Today, and is working like crazy at some very top-notch festivals.
I'm so excited for him, but my sister is going to be one busy woman with three children at home. Jim is going to miss his family something awful - he is one devoted family man, that's for sure. However, he's been hoping for a big break for years now and this just may be the perfect gig.
Here is their current schedule; this will probably get even fuller as the weeks go by. If anyone sees my keyboarding brother-in-law at any of these events, please let me know!
APRIL
16 Portland, OR private event
17 Seattle, WA Hwy 99 Blues Club
23 Gulfport, MS The Quarter
24 Baton Rouge, LA Baton Rouge Blues Fest
25 Houston, TX Houston Int'l Fest
27 Austin, TX Antones (H)
28 San Antonio, TX Sam's Burger Joint
29 Travel Day 905 miles
30 Tallahassee, FL Bradfordville BC
MAY
1 Atlanta, GA Blind Willies
2 Memphis, TN Beale Street Music Fest
4 Merryville, TN Brackens Blues Club
7 Nashville, TN 3RD & LINDSLEY (hold)
8 Oxford, MS TBA ?
8 Bristol, TN Mackavelly's
9 Hillsborough, NC Blue Bayou
10 Lexington, KY Woodsongs O/T Radio
11 OFF
12 Alexandria, VA Birchmere
13 North Hampton, MA Iron Horse Music Hall (H)
14 Freeport, ME The Venue
15 Fall River, MA Narrows Center for the Arts
16 Manchester, CT Hungry Tiger
17 Patchogue, NY Bobbie Q
18 NYC, NY BB KINGS *TRIPLE BILL
19 Cambridge, MA Regatta Bar
20 Reading, PA Gerald Veasley's Jazz Base
21+22 Philadelphia, PA Warm Daddy's
23 Pittsburgh, PA Moondog's
24 Cleveland, OH The Winchester
25 Dubois, PA Treasure Lake Ski Lodge
26 Buffalo, NY The Tralf Music Hall
27 Cleveland, OH The Winchester (H)

(I'm trying to get the rest of these changed from all caps, but I wanted to post this now, I'll continue editing...)
JUNE
4-5 OFF
9-11 NORTHERN CA TBA
16 CHATTANOOGA, TN RIVERBEND FESTIVAL
18/19 CHICAGO, IL LEGENDS (H)
19 LAS VEGAS, NV CANNERY CASINO FEST
20 UKIAH, CA BLUES BY THE BAY
21 LAKE OF THE OZK OSAGE BEACH CONCERT SERIES
25 MONTREAL,Q C MONTREAL INTL JAZZ FEST
26 LEWISBURG, WV RHYTHM, BLUES & ALL THAT JAZZ
FESTIVAL
27 CHARLESTON, WV MOUNTAIN STAGE…. TAPES
SUNDAYS?
30 LOUISVILLE, KY WATERFRONT WEDNESDAY
JULY
4 PORTLAND, OR WATERFRONT BLUES FESTIVAL
9 DENVER, CO TBA (H)
10 DENVER, CO BLUES & BREWS FESTIVAL (H)
16 LONDON, ON BLUES FESTIVAL
17 WINDSOR, ON BLUES FESTIVAL
18 OTTAWA, ON OTTAWA BLUES FESTIVAL
19 MONT TREMB.,ON MONT TREMBLANT BF
25 TAHOE CITY, CA COMMONS BEACH CONCERTS
31 DEMING, WA MT BAKER BLUES FEST
AUGUST
7-8 Nottoden Norway (H) Nottoden BF
13-14 BILLINGS, MT Magic City BF ?
14 WHEELING, WV HERITAGE BLUES FEST
27-29 KANSAS CITY, MO FESTIVAL
SEPTEMBER
3-4 DALLAS, TX THE PEARL (H)
3-4 DALLAS, TX BEDFORD BF
5-6 HOT SPRINGS, AR FESTIVAL (H)
15 UNCASVILLE, CT MOHICAN CASINO (H)
17-18TELLURIDE, CO TELLURIDE FESTIVAL
17-18FREDERICTON, NB HARVEST JAZZ & BLUES (H)
18 PARAMOUNT BF GRAFTON, WI (H)
OCTOBER
17 TUCSON, AZ SABHF
22-23 KANSAS CITY, MO BEYOND THE BLUES FESTIVAL (H)
*•-:¦:-•:*''''*:•-:¦:-•
Alrighty!
I hope you have a fantastic weekend. I'm going to get changed and get ready to go to the art fair while my mom is painting the first coat on the bathroom wall.
Kristin