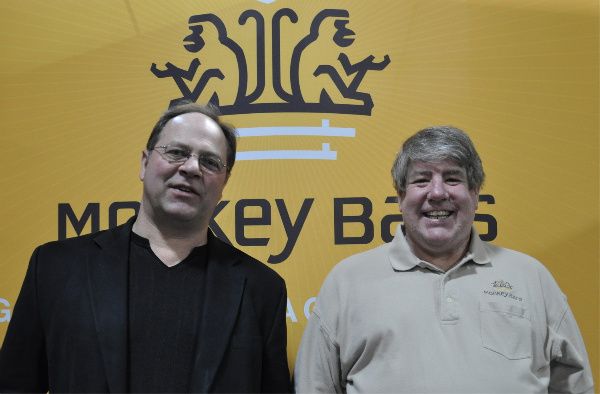 Guido and Tom
Something really fun happened today.
Guido (in black) showed up at the Jacksonville, FL Home and Patio Show where Tom (in tan) had his
Monkey Bars
booth. Guido's real name is Steve, but at the time he got his nickname Tom had three or four friends named Steve so he renamed all of them :)
So anyway, Tom is in his booth, talking with people when all of a sudden he sees his best friend. Guido lives in Michigan so why in the world is he in Jacksonville...and why didn't he tell us he'd be in town?!
Well, come to find out he was actually in Daytona Beach with a friend who is a roofing supplier and that friend decided to come to Jacksonville to drop off some samples to a few vendors at the Jacksonville show. Just a bunch of strange things came together to make this little reunion happen.
I was at home when Tom called. I was planning on going to the Riverside Arts Market before going to the Home Show - but I quickly changed directions and just went straight to the Home Show. I arrived at our booth and Steve wasn't there, but a couple of people were wanting to know about the
Monkey Bars Garage Organizing System
so I just started talking to them. I still had my purse over my shoulder and I happened to mention that I had just run in and that a dear friend was nearby and if I see him, I was going to have to kiss him! As soon as I said that, I saw Steve/ Guido. He just came right over and I gave him a giant hug and a kiss on the cheek. The couple started laughing and said "Hi Steve!" It was a hoot. I signed those folks up for an estimate, too! I guess kissing random people works!
OK, so it wasn't random :)
But how fun was that?!!
I haven't seen Steve in a few years, but Tom sees him every time he goes to Michigan. They go to the Upper Penisula of Michigan to deer camp every year and in the summer Tom usually spends a little bit of time with Guido on his boat in Lake Michigan.
I just noticed that I interchange the name Steve and Guido even in the same paragraph. It's so funny, but they are truly one name to me. One name, one guy, two ways to say his name. I hope it's not too confusing.
So the photo above was the best picture of the two boys. Steve just wouldn't give me a smile. (Goofy boy.) I'm so happy I was ready to leave the house when Tom called because Steve and his roofing friend left the home show about 15 minutes after I arrived. Thankfully they waited for me :) I would have hated it if I missed the reunion.
I hope you have had a fabulous weekend!
Kristin