I Am In Love.
Head over heels in love.
Seriously, I even became a bit of a stalker - good thing it was an art fair - you're allowed to stalk from 10am through 5pm on art fair days :)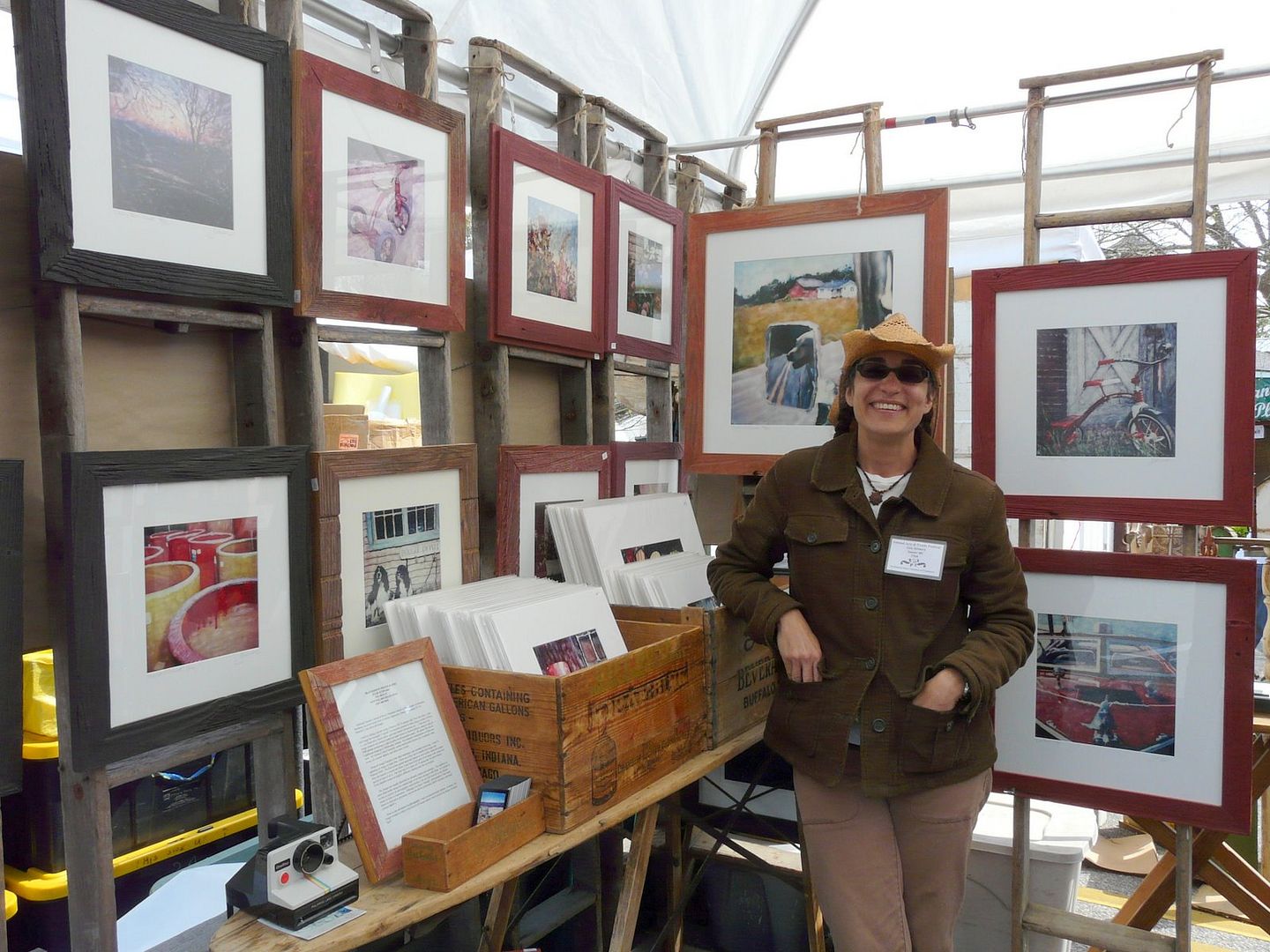 This is what has just about sent me over the edge. It's the art, the artist, the booth design, and the
personality
of the prints, the artist and the booth design! The artwork is hanging from old ladders. I didn't notice that the first day I met Julie, but I did notice it after the second time. By the third time I saw Julie I was an expert.
See? I'm in love :)
The artist is Julie Schwarz and she's from Michigan! I first met her at the Orange Beach Art Fair in Alabama.
She explained that each photo is actually a Polaroid photo that was "smushed" (her term) before it completes the photographic process. She'd use things like her fingernails, cuticle sticks, golf tees, etc to make marks on the newly emerging image. This gives such an interesting look to each photo, which just can't be replicated. She then scans the Polaroid to make an e-negative so that she can print them like you would any other type of photo.
I wanted to buy on the spot, but couldn't make up my mind. I was torn between two photos. Grandma's Chair and Pottery Barn.
Grandma's Chair
I took this photo at the art fair, so the light was bouncing off the glass like crazy. But I have a little red and white step stool chair that was my grandmother's, so I was immediately drawn to this one. The frame was red barnwood, which complemented the red in the photo which would fit right into my home because I have a lot of red tossed about :)
This photo earned Julie an award at the Orange Beach Art Fair, so that's very cool, too. It means that she's invited back next year. Guess that means I'm coming back next year, too!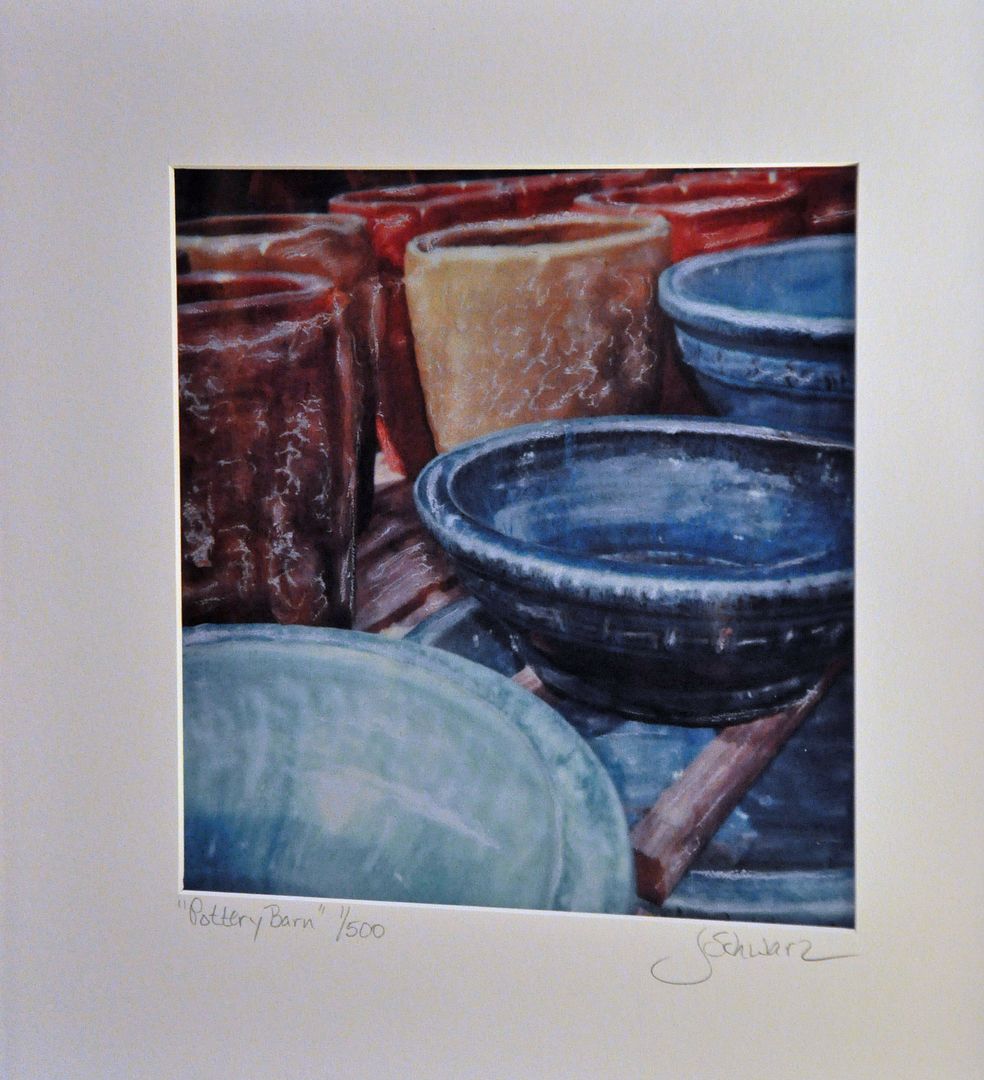 Pottery Barn
I love love love pottery. I eat out of pottery bowls or plates every day. I love the feel of silky smooth glazes. I love the colors and and and, I can go on for years about the things I love about pottery. The one thing I don't have is a really cool photo of pottery.
So, I left the Orange Beach Art Fair knowing that I'd go to the Fairhope, Alabama Art Fair the following weekend and Julie, we're tight friends by this point, said she'd be there all weekend. All week I thought about those photos.
Which one?
The chair or the pottery?
Chair or Pottery?
Red frame? or Black frame?
I still had no idea which one I would choose until I finally arrived at Julie's booth a week later at Farihope. Then as I was looking at both of the photos I realized that one place that I still hadn't placed a piece of art was at the front door. It's a red wall and that black frame would be perfect.
But I still really loved Grandma's Chair!
Julie then told me that the Pottery Barn photo was #1 out of 500.
SOLD!
It's not very often when you can get the first one of an edition. I mean, you have to be first!
Here it is, in place at my front door. Beautiful!
Click on the photo to enlarge so you can see the gorgeous wood on this piece of art. Julie's husband, Daryl Schmidt, makes the frames for her artwork out of barnwood, old ladders or other rustic woods.
Love it!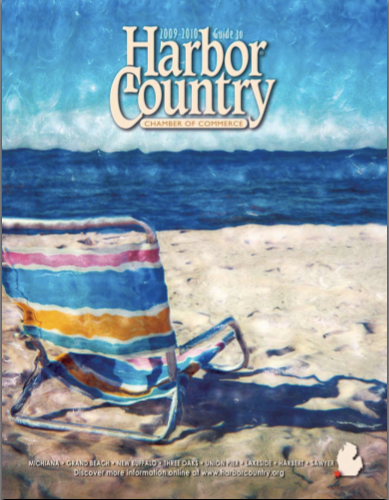 The first day I met Julie, I was gushing so much about how much I loved her work that she gave me this magazine. It is the
2009-2010 Guide to Harbor Country.
It serves the Michigan cities of Michiana, Grand Beach, New Buffalo, Three Oaks, Union Pier, Lakeside, Harbert and Sawyer, where Julie lives! The guide featured Julie's work throughout the magazine and on the cover, shown above.
Each new topic in the Guide had a little blurb to what could be found in that section and then three Polaroid shots of Julie's work.
And look! Under the shopping topic is Grandma's Chair! I may have to frame this page.
I went back to the Fairhope Art Fair with Leigh (
Tales from Bloggeritaville
) and Jennifer (
Dust Bunny Hostage
) and we spent a good 30 minutes in Julie's booth. Both Leigh and Jennifer bought the book that she had and we all admired the beautiful artwork and frames. I contemplated buying Grandma's Chair again. I realized that it was #22 of 500. Twenty-two being my favorite number, but I resisted, kicking and screaming.
I'm so pleased with my purchase and it was worth the three trips combined to both art fairs to get to know Julie Schwarz. She was so much fun and infinitely interesting. I can't wait to see her again next year.
Have a wonderful Monday!
Kristin