While in Gulf Shores chatting my my cousin Neta and my Mom, Neta turned to me and said, "Do you know why your folks chose your name?" I said that I really didn't know and then looked to my Mom and she pulled out this story that I swear, I had never ever heard before.
I mean seriously.
I'm positive I asked why they chose to name me Kristin.
but this was news to me!
So here's the story and some extra little tidbits because it's interesting.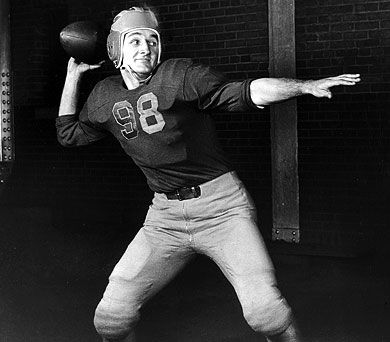 The photo above is of Tom Harmon. Football player at the University of Michigan, Heisman Trophy winner, LA Rams, Sports Broadcaster on radio and TV and was one of the first athletes that made that transition from on-the-field to in-the-booth.
Mr. Harmon married an actress named Elyse Knox and then had three children, all of whom got into show business.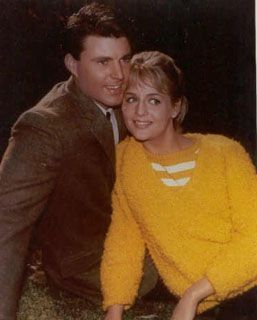 One of Tom Harmon's daughters was named Kristin. (Tah-dah!!) She's seen here with her husband Ricky Nelson. Ricky Nelson of the Ozzy and Harriet Nelson's, the youngest son of of Ozzy and Harriet and the one who danced his way into the hearts of teenagers across this land singing Garden Party.
Kristin and Ricky had four children - Tracy (who was Sister Steve in the Father Dowling Mysteries 1987 - 1991), Twin sons Matthew Nelson & Gunnar Nelson (of the 90's rock group "Nelson") and the youngest son, Sam.
Tom Harmon's son is this handsome guy, Mark Harmon. I know he's done a ton of acting work, but every time I hear his name or see his picture I think of Ted Bundy. He portrayed the serial killer in the made for TV movie "The Deliberate Stranger" in 1986 and I've seen that movie several times.
Tom Harmon had one other child, Kelly. I couldn't find a photo of her or any info on her. Sorry, Kelly.
EDIT EDIT :) Thanks to Darren Proctor, he mentioned in the comments that Kelly Harmon did this Tic Tac Commercial. I recognized her immediately and remember those commercials - so this is Kelly Harmon. Cool. Thanks Darren!
OK, so let's recap.
No, there is too much. Let's sum up.
My Dad was/is a football fan and was also a radio broadcaster, so Tom Harmon was on his radar. He liked the name of his daughter Kristin and offered the name as one he'd like his first daughter to be named. I guess my Mom agreed, because I'm named Kristin.
I still can't believe I'm 43 years old and this was the first time I'd heard this story. It's amazing what you learn. Thanks Neta for asking the question!!
Have a wonderful day!
Kristin
**All of these photos were found on Google Images.