You always know that you've received a card from my sister Alison if the outside of the envelope has a little drawing on it. It almost always relates directly to the event or the gift - in this case it was a dead giveaway that my gift was Burger King related somehow.
As soon as I saw this envelope a memory came flooding back. I had given her a few business cards and asked her if she would frame them for me. She worked as a framer for a few years and has such an eye when it comes to matting and framing that I love just handing her stuff and asking her to frame it. I know she'll pick out the perfect frame, the perfect mat, the perfect everything.
So she did!!!
I'm so glad that I have a really short memory sometimes because it's so much fun being surprised.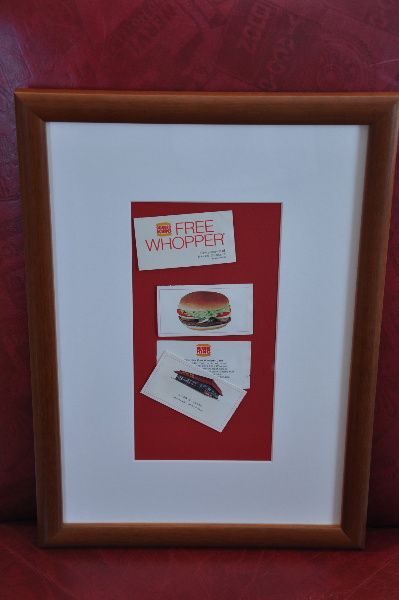 Unfortunately I was even more surprised when I saw this!!
Oh, I know she'd just have a fit if she saw what had happened. This is just not the way she expected it to arrive, obviously. The frame is beautiful and works perfectly with all of the colors in the business cards and that RED! I love it!
The business cards did not like their trip through the U.S. Postal Service. When I talked with Alison she said that she was using a new product (new to her) that was an acid free adhesive and that she went sparingly with it. So what I'm going to do is take it to a local framer and ask them if they will help me fix it up. I'd do it myself except that I don't have the special point driver tool to attach the back to the frame.
Still, I'm so excited. These business cards are from the early 1970's and one of them has my Dad's name on it and a photo of our very first Burger King (#200) in Lansing, MI. I can't wait to finally put these up on the wall instead of hidden away in the closet or
gasp
in a box on the floor or in a storage closet. They deserve so much more and now they are
thisclose
to being there :)
Alison, thanks again for such a wonderful gift! I'll get it fixed up, pronto.
Kristin