It's
Friday Fragment
day!! I love FF day. I always seem to have a lot of little things that I must say, but that really don't need an entire blog post devoted to the thought. There are a lot of others like me and a lot of them are just a hoot! To meet the other Friday Fragmentors, please head on over to
Half Past Kissing Time
and see what Mrs. 4444's (Mrs. Fours) has written and see who all has already posted their FFs.
*•-:¦:-•:*''''*:•-:¦:-•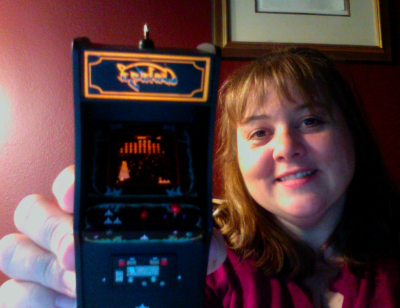 My camera is in the car right now because I didn't think I'd need it before I left for dinner tonight - of course I realized that I did need it, so I came up with my own bit of fudging to get this picture. As a bonus, it's a photo of me, too!
So, what am I holding??? It's a PRIZE! I won this Hallmark Galaga Ornament from Debby @
Just Breathe
. She had the giveaway in Feb. I think and I won it :) Then I was away on my trip, so she waited to mail it to me until I got home - it arrived in the mail last Thursday and I wanted to put it in my Friday Fragments, so I waited until this week. I was so excited to learn that this ornament has sound - I pushed the little red button and it sounds like the video game. Oh it takes me back to Marc's Arc in Lansing, MI where I used to play Galaga (Intruder Alert! Intruder Alert!) and also Q-bert. Those were the only two video games that I managed to play fairly well. I told Debby that if I won this prize that I might just give it away to another friend who used to hang out with me at the arcade, but I'm totally smitten with it. It's staying with me :) Thanks so much
Debby
! I love it!!!!
Oh, I found a photo online so you can really see the ornament. It's adorable. :)
Happy St. Patrick's Day! OK, so it's next week, but still, you may need to have some crafty shamrocks up your sleeves. I love the website
One Pretty Thing
because there are so many crafty ideas. One of my favorites were these
free vintage graphics
from The Graphic Fairy! be sure and look at the end of that post in the "you might also like section" because there are several other St. Patty's Day items there, too.
*•-:¦:-•:*''''*:•-:¦:-•


Family Memory Game
- LOVE THIS! I'm sorry, I was shouting. :)
I love this.
I've been thinking of doing this for my nieces and now that I see this particular blog post at
Smart Bottom Enterprise
, I'm for sure in on this. I've seen several other blogs that describe their memory game, but for some reason this one just hit the spot. My local Ritz Camera shop has a special deal on 3 x 5 prints on Tuesdays and Wednesdays - they are 7¢ each. What a bargain. It makes this project even more affordable. Look around your town, I bet you can find inexpensive prints. With this project, you don't need to have giant photos. (I got this link from
One Pretty Thing
, too)
*•-:¦:-•:*''''*:•-:¦:-•
Tonight we had a Souper Supper with my liver transplant group. This was a special event in place of our monthly Potluck dinner. I guess last month we only had 8 people attend the potluck, so one of the couples who live in town suggested that we have a soup night at her house. If there were only 8 people again, then it would be an intimate group. If there were more, then all the merrier. I think we had 16 tonight, but I might be missing a few folks. We had 5 different soups - all delicious! I brought bread - a nice Pane Tuscano and an Asiago & Herb bread. I also brought my cutting board and bread knife. It makes for a nice display for a loaf of bread and if the hostess doesn't have a bread board, they don't have to go looking for it. This is one of the things passed down from my Mom. We always had wonderful breads when she entertained. When Marge told me that it was a Soup night, I knew what I was bringing :) Thanks, Mom!
To clear things up --- It sounds like my Mom never entertains anymore - that's far from the truth. I just don't happen to live near her anymore, so so that's why it's in past tense.
*•-:¦:-•:*''''*:•-:¦:-•
I got a comment today from Jennifer - aka
Dust Bunny Hostage
- on my post
oops
.
She said..."I've gotta tell you Kristin, when I read about the relationship between you and your sisters it makes me realize just how NICE it would be to have a sister. I don't think you are the type of person to take it for granted. I saw a lady walk out of a store yesterday and she looked like one of your sisters (I don't have names and faces straight). It hit me "How strange. I don't know Kristin's sister - will most likely never have the privilege - but I have spotted her twin." You've just got to love blogging!
I just wanted to let Jennifer know that I love that she sees my family in her neighborhood. It means that I am not far from her thoughts. See, it's all about me! Actually,
Bunny of Dust
, you have a sister in me. Just consider it done. I'll try to call more often, maybe even send a card or two. By the way, when is your birthday? :) A sister should know that! Oh and I'll see you next week!!
*•-:¦:-•:*''''*:•-:¦:-•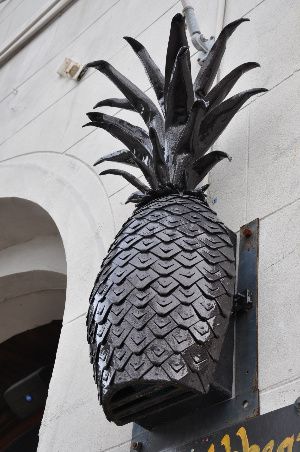 A pineapple is the sign of welcome or hospitality. This pineapple was outside of a restaurant in Savannah, GA. I want to thank you for coming by my place and for leaving a comment, if you choose to do so. Thanks so much. Thanks to Mrs. 4444 for hosting
Friday Fragments.
It's one of my favorite days of the week :)
Have a great weekend!!
Kristin