Ever since I got my Nikon D90 camera, I've been wanting to learn how to use Photoshop to play with the pictures that I take. My photographer/blogging/roadtrip friend,
Lisa
, talks about the actions she uses to enhance her photos and I always just sighed and thought, "some day." Actions are usually a one click way to get a whole bunch of photo adjustments made at once.
When I visited with Lisa on my roadtrip one of the things I wanted to do was to get her to teach me how to download and use the actions. I knew it wasn't hard, but I wasn't having any luck using tutorials. I needed an in-person demonstration.
And she did :0)
This is the original, the one that I used as the base for all of the photos below. This isn't straight out of the camera (SOOC) but it's only been enhanced a tiny bit, like I do for all of my photos on the blog. I brighten it up a bit and make the contrast a little sharper.
This photo is of my husband and one of his favorite folks at Mayo. She used to be his post transplant coordinator, but now she's working on the hospital side. We don't see her very often, but on this night the liver transplant support group and some of the hospital staff were all together.
The photo above - The only thing done to this is it has rounded corners and was sized for web viewing. (The CoffeeShop Blog
Rounded Corners Moody Pop
)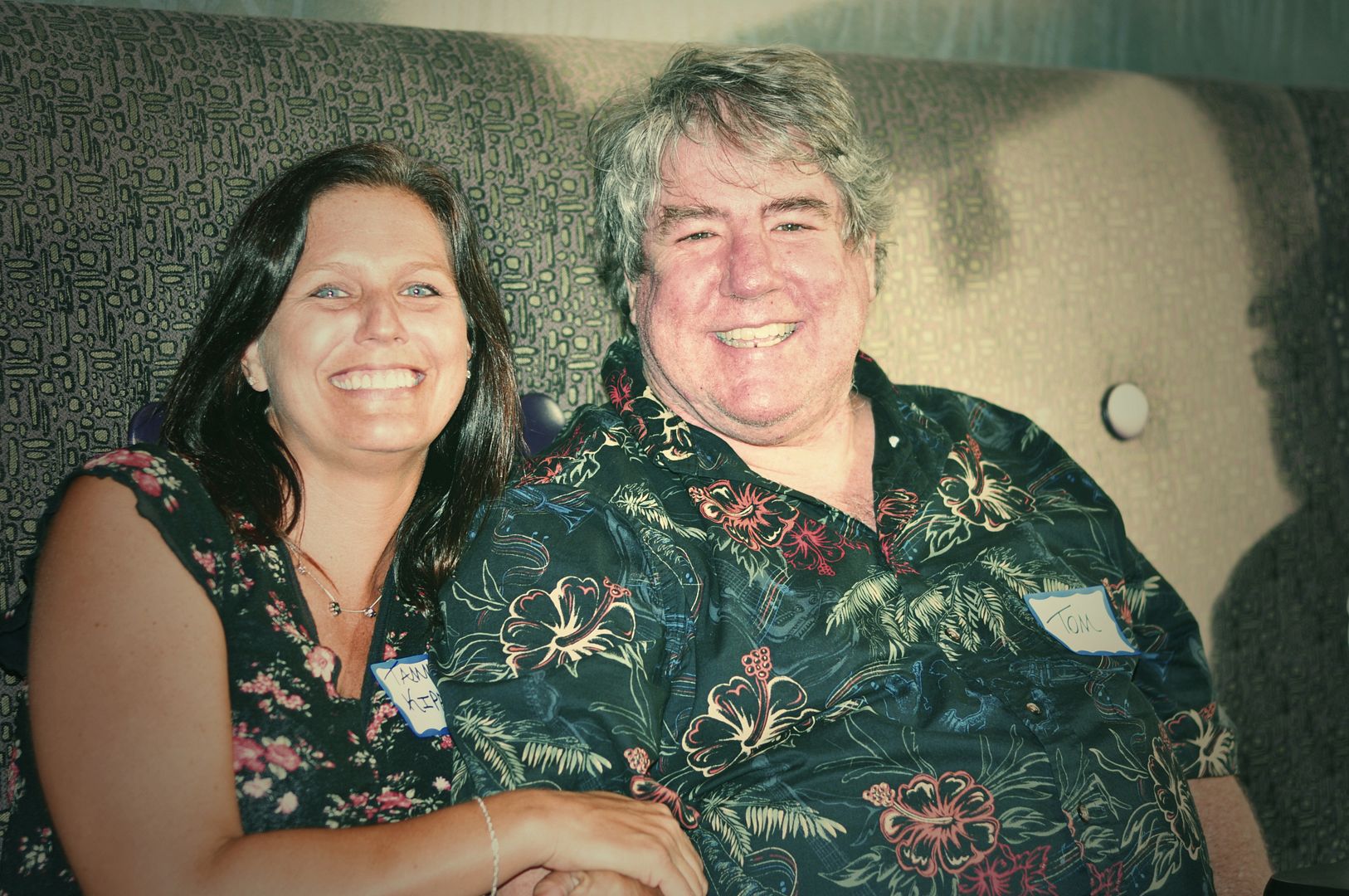 This one, above is
Honey Retro
. It has the yellowing property that you see with so many old color photos. Normally I wouldn't use a yellow with the pre-transplant patients because so many of them are already yellow! (from being jaundice) Since my husband is post transplant, it's OK in this case.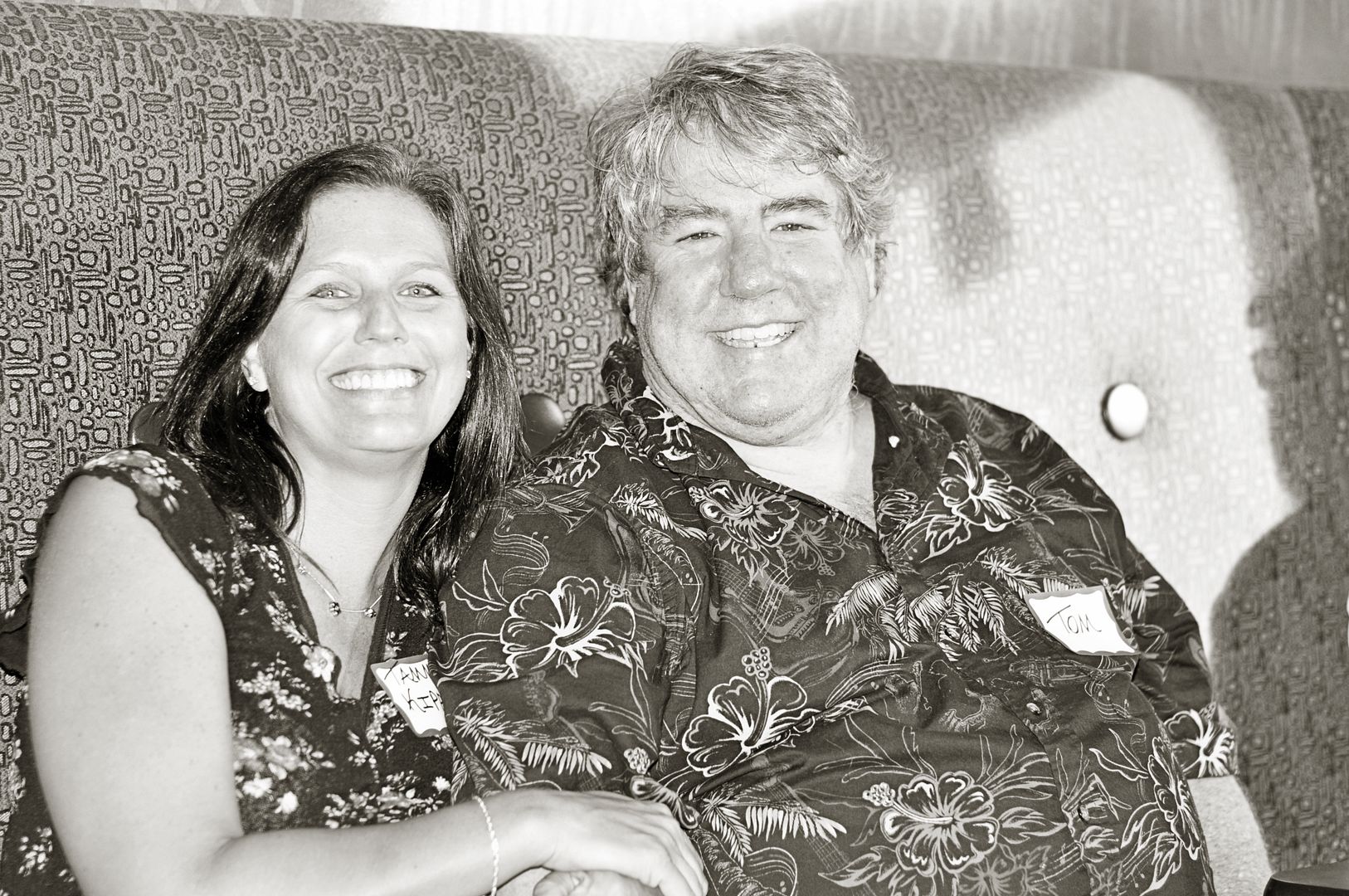 This one is called
Toasted Coconut
. It's got a hint of something that makes it not quite black and white. I like this one. It's also really bright. I think this is one of her newest actions.
This last one is the CoffeeShop Blog's version of
lomo
. Lomo is what our film snapshots used to look like. Here we are in the fabulous digital age and instead of the sharpest images with spot on color, this action takes us back to the snapshot. I like it. When I look back at photos of me when I was a kid, they are all snapshots.
All of the actions I featured are from
The CoffeeShop Blog
. Her most popular presets and actions are featured here - you can buy them all for one low price and get some freebies OR you can do what I did and I downloaded a handful tonight and they were all free. I have Photoshop Elements and so not all actions work with the less expensive version, but
The CoffeeShop Blog
really makes an effort to have the actions work for both Photoshop and it's kid sister, Elements.
I have been playing with quite a few actions ever since I had the pleasure to meet Lisa. I am so grateful for her help!
Lisa
sent me some instruction links (in case I forgot or needed help in the future and can't run up to PA to see her) so I thought I'd include those too. You may or may not care about any of this, but that's OK!
How to install actions in Photoshop Elements 8 on a Mac
.
This one is from
Texas Chicks
. Thanks!!
Installs textures
- this is a free texture applicator. I haven't done this yet, but it's next.
These are the actions that
Lisa
thought I should have - - and funny enough, I haven't gotten them yet! Sheesh, what am I waiting for anyway?
Little Perk
- contrast boost, color boost and slight sharpening
Pioneer Woman
- I use Boost, Fresh Color, Lovely, Vignette, Slight Light the most often.


Hope you enjoyed a little photoshop information and my husband's lovely mug.

Have a great day!
Kristin