Last Sunday I asked if anyone knew of an Oxtail soup recipe (
here
) because my Dad had lost his cookbook with the recipe in it and was wanting to make it again soon. Oxtail is from cows and using it the way it's described in these recipes is like boiling beef bones or chicken bones for stock. (In case you were wondering.)
My blogging friend Debby from
Just Breathe
remembered that her grandmother made something called Oxtail Soup but she didn't remember eating it. The name got the best of her though and she went looking around in her old cookbooks to see if she could find a recipe.
Debby was fabulous enough to scan two of the recipes she found. Click on the photos to enlarge them to giant sized to read the recipes.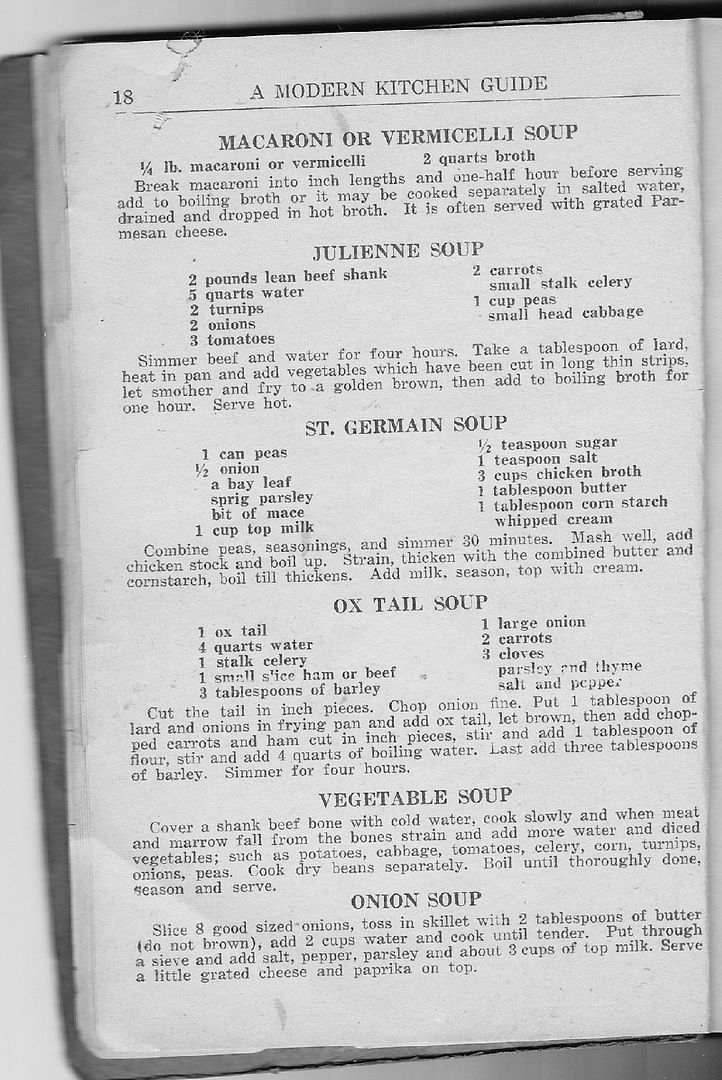 "A Modern Kitchen Guide" published by The Bunting Publications, Inc. North Chicago, IL in 1934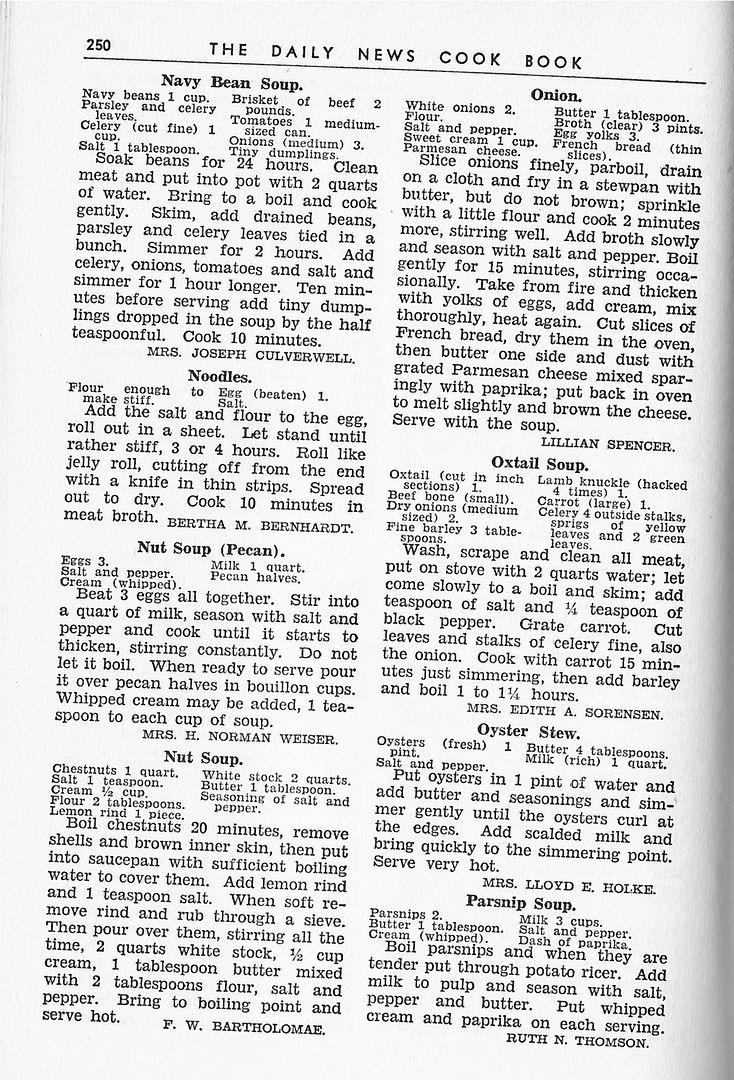 "The Chicago Daily News Cook Book" published by the same (The Chicago Daily News, Inc.) in 1930.
Debby
My Aunt Marg sent me this message...
I'm assuming he wants a soup, not a stew, but both are just wonderful. FYI, you can add root veg, cabbage, beans and/or barley, whatever floats your boat, but I'm going to just do the basic clear soup for you. And yes, oxtails come from cows : )

Oxtail Soup

2 lbs disjointed oxtails
1 onion, sliced
2 tblsp butter or vegetable oil
8 cups water
1 tsp salt
4 peppercorns

Brown oxtails on all sides in fat, along with the onions, in a large pot. Cover with water and simmer gently, uncovered, appx 4 hours (till meat is tender and falling off bone).

Strain the stock and chill; when solidified, remove fat, then reheat stock. Remove meat from the bone and cut into bite-size pieces, or keep whole, depending on your preference; reserve till the very end.

1/4 cup chopped parsley
1/2 cup diced carrots
1 cup diced celery
1 minced clove of garlic
1 bay leaf
1/2 cup diced tomatoes
1/2 cup red wine, or more to taste
1 tsp dried thyme
salt and pepper to taste

Add vegetables, wine and seasoning to the stock and simmer gently, uncovered, appx 1/2 hour. If you want a clear soup, strain the stock at this point; otherwise keep the vegetables in the stock. If you wish to thicken the stock a bit, brown 1 tblsp flour with 2 tblsp butter in another pot, then slowly add the stock.

Add the reserved meat or whole oxtails and heat through.



I mailed off copies of a few recipes to my Dad, since he doesn't use a computer, but I think I may send him the two recipes that Debby scanned. I bet he'll like those, too. Marg's recipe was included in that first letter.

Thanks everyone for your help. I'll let you know when my Dad lets me know that he made the soup.

Kristin