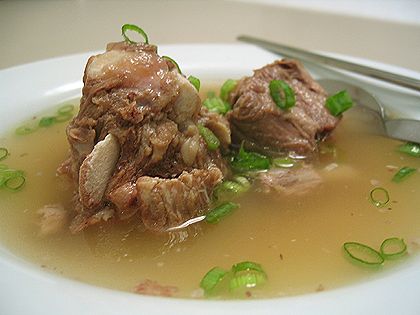 Ox tail soup -
image source
My Dad called me tonight to ask me to do a little bit of research for him. He loaned out one of his cookbooks, which contained his recipe to ox tail soup, and he hasn't seen that cookbook now in few years.
I'm thinking that who ever has the cookbook has forgotten that they got it from my dad and that there is a valuable ox tail soup recipe inside of its pages.
So, my Dad asked me to look up some recipes for the soup and to send them along to him --- whenever I get a chance. He made this soup once for us when we had our coffeehouse, The Dancing Goat and lately he's been getting requests from friends to make this soup again. This is why I have come into the picture.
I know me well enough and if I don't do it immediately, it won't ever get done because I will put it so far back on the burner that it's in a different county. Once it gets back that far I will have totally forgotten and it could be months before I remember again.
I've now Googled Ox tail soup and gotten a few pages of results. My Dad said that what he was looking for was mostly a broth, not filled with root veggies. I'm just not sure if what I've found is "right" - some of the recipes are terribly complicated.
Do you have an oxtail soup recipe? have you ever made oxtail soup? have you ever had ox tail soup? do you want to have ox tail soup?
If you do have a recipe, would you please do me the favor and send it my way. I'm going to send him a little packet of recipes for Valentines Day. Seems like the perfect gift for a Dad who has everything :)
Thanks!
Kristin
Here are the recipes that I've bookmarked so far -
One,
Two,
Three,
Four,
Five