Happy Friday!
I'm a bit late in joining, but I just couldn't miss it even though I was busy today. I hope you enjoy my bit of randomness and that you get a chance to go over to
Mrs. 4444
s place and read what she's been up to.
Friday Fragments
is after all, her brainchild :) Thanks Mrs. 4444 for having a brain!!
*•-:¦:-•:*''''*:•-:¦:-•
I asked my husband if he recognized the voice of an actor and the only reference I could give him was a role where the person was silent.
*•-:¦:-•:*''''*:•-:¦:-•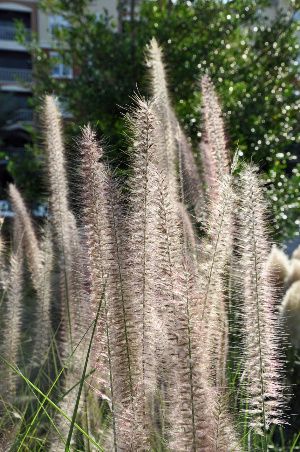 ornamental grasses at the front gate of my condo community
*•-:¦:-•:*''''*:•-:¦:-•
My husband has a booth at the Jacksonville Home and Patio Show for four days - Thursday through Sunday. Usually he has someone helping him at the show but this year no one was available. No one but me. So far it hasn't been too bad - I spent 4 hours there yesterday and 4 hours today. My husband was there 12-9 both days, but I came in so he could eat and wander around and get a little bit of a break. Saturday will be the long long day. I don't know if either of us will get a break.
*•-:¦:-•:*''''*:•-:¦:-•
The product we are featuring at the Jacksonville Home and Patio show is the
Monkey Bars
Garage Organizational System. It's a great product and if you happen to live in the Jacksonville Fl area be sure and watch the video we have on the
website
. It will totally transform your garage.
*•-:¦:-•:*''''*:•-:¦:-•
ornamental grasses at the front gate of my condo community
*•-:¦:-•:*''''*:•-:¦:-•
I've been scattered from one end of this town to the other. I'm leaving on Monday for my second annual month long trip to Michigan. I'm so exited I can hardly stand it! I get to see my nieces and my sisters and my mom and my dad and and and. I'm having a birthday party while I'm home as well. Even another reason to be happy.
*•-:¦:-•:*''''*:•-:¦:-•
I'm planning on taking a photographic journey from FL to Michigan this time. I've set aside an extra half day to drive. It's 1200 miles on the expressway, but I hope to take some scenic roads and take a few extra exits to see some of the countryside. That should add some additional miles and hours, but I'm OK with that.
*•-:¦:-•:*''''*:•-:¦:-•
My husband will be holding down the fort here in Jacksonville, so if anyone thought that I was just advertising that our house would empty - well, that's not the case. My husband and I tend to tag team on our vacations and keep one person in Jacksonville so that if our tenants or other liver transplant friends need anything, one of us will be available.
*•-:¦:-•:*''''*:•-:¦:-•
via Google images
Each year the Jacksonville Home and Patio show hires an HGTV celebrity for a meet and greet. Granted the celeb isn't the top tier in HGTV, but I've recognized each one of them and was pretty thrilled to see them. This year it's
Andrew Downward
from Candice Olson's Divine Design. He's the Paint Specialist on her show. I saw him as he and the lovely woman he was with, walked in the door. I smiled real big and we both nodded a hello. It was fun :)
*•-:¦:-•:*''''*:•-:¦:-•
The three most common spam comments I receive. They really do make me laugh. Of course they are all anonymous so I can't even reply in a PM...even if I wanted to.
Pretty cool place you've got here. Thanks for it. I like such topics and everything connected to them. I would like to read more on that blog soon.
or
I apologise, but, in my opinion, you commit an error. I suggest it to discuss. Please PM me.
or
The only thing this blog needs is more pictures of devices.
*•-:¦:-•:*''''*:•-:¦:-•
Thanks so much for stopping by. Have a wonderful weekend!
Kristin