Welcome! Welcome! Welcome!
to the One Hundred Thirty Third Edition of Half Past Kissing Time's Friday Fragments!
Come on in y'all and listen to these little bits of fun and then run on down yonder to Mrs. 4444s place to go visit more friends and see their bits. Well, their fragmented bits anyway.
We always have fun on Fridays - thanks for joining me.
*•-:¦:-•:*''''*:•-:¦:-•
What major U.S. company's original name was National Biscuit Company?
I didn't realize I knew this little factoid, but I just blurted it out when I was asked.
Highlight the black line to reveal the answer. (It should work!)
Nabisco
*•-:¦:-•:*''''*:•-:¦:-•
How to make
Beef Broth
from Food Renegade
I quickly read through this post about Beef Broth a few days before I made some chicken stock and I have to say that I made some really great, thick chicken stock with just a little modification. I'm going to have to reread the Beef Broth post and see what more I have missed.
*•-:¦:-•:*''''*:•-:¦:-•
Some day I will witness this in person. For now I'll have to just gasp at the beauty.
Lavendar fields forever
.
*•-:¦:-•:*''''*:•-:¦:-•
I was discussing email addresses with
A Few Clowns Short
awhile back and thought of that discussion when I found this little diddy at
The Oatmeal
. It made me laugh, although I have several very computer savvy friends who use yahoo.
*•-:¦:-•:*''''*:•-:¦:-•
Valentines Day Printables
(for $9.99) from Indie fixx. All of the monies will be distributed to all of the artists included in the PDF. It looks like a real nice collection. I haven't decided yet if I I'm going to buy it, but I am short about three cards for my family, so it would be a great bargain for me.
*•-:¦:-•:*''''*:•-:¦:-•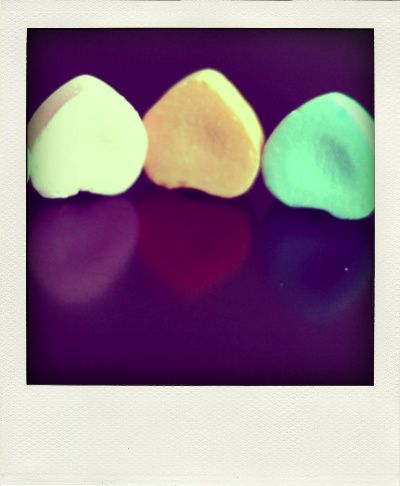 Free Printable
Valentine Bunting
from Kind Over Matter.
Free Printable -
fun stickers for your fruits
(you supply the sticker paper) from Twig and Thistle.
Free Printable -
28 Free Valentine round up
on Kind Over Matter
*•-:¦:-•:*''''*:•-:¦:-•
I did it, I admit it. I saw some dried spinach still clinging on my wire strainer after it had been both washed and dried and I just put it away and didn't pick off the dried bits.
*•-:¦:-•:*''''*:•-:¦:-•
Do you know that it's nearly impossible to put eyedrops in your eyes when you're yawning?
*•-:¦:-•:*''''*:•-:¦:-•
The photos above were taken by me and then I used the
Photodroid
process to turn them into retro looking Polaroid images.
Thanks so much for stopping by!
Kristin