What happened?
I mean, it was Sunday and then it was Valentines Day and all of a sudden it's Wednesday morning?
What happened to Tuesday?
Let me go back and tell you about Sunday before I find out what happened to Tuesday.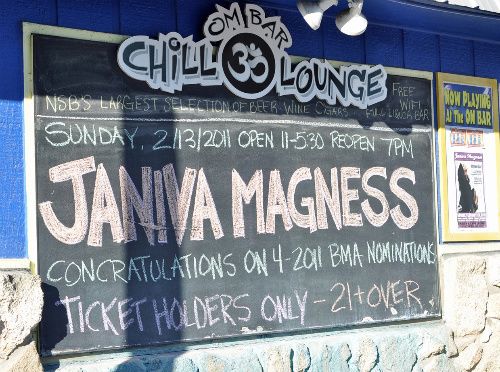 I went to the FABULOUS Janiva Magness performance in New Smyrna Beach, FL. We got there just in time to see the band warm up around 4pm, then we went to dinner with all of them. Janiva doesn't speak much before the gig so she will have plenty of voice for her show, so she didn't say much. The rest of the band were quite chatty. We sat across from my brother in law, Jim, and pretty much had our own conversation. It was still fun to be "with the band."
Then after an early dinner, they all went back to the hotel room to rest up and get ready for the show. Tom and I did a little sight seeing of New Smyrna Beach and waited for the show to begin.
The
OM Bar and Chill Lounge
is a tiny place. Goodness. It probably seats just 50 people inside. There was a garden patio, too, but I didn't see how big that space was - it was quite chilly that night, to not too many folks hung out, out there. I loved seeing Janiva there though, it was really an intimate setting.
The performance was so great. I've always known that Jim is an incredible keyboardist, but sitting just a few feet away for a few hours and watching him play just solidified that fact. Even the people at my table were telling me how talented they thought he was. One woman just kept looking over at me and saying WOW. The entire band is extremely talented and led by Janiva and her voice it's something to behold that's for sure.
Here's a
link to a video
if you'd like to hear her. Jimmy plays a little solo part around a minute thirty. I tried to find a video that didn't have an ad at the beginning, but funny thing is that this one was a lunch time gig, so they weren't all dressed up. You'll still get it though. :)
Monday was Valentines Day, as you may know. I spent the day taking photos and enjoying the day really. I realized I was short a couple of Valentines so I went in search of some fun ones for my nieces. My husband had to switch out his rental car so we did that in the evening and then we went out to dinner. We chose a pizza place as I was hoping it wouldn't be too crowded with Valentine dinner goers. We were successful! It wasn't too busy at all.
Then Tuesday came along. Well, should I say that the very long night between Monday and Tuesday began. I couldn't sleep. I don't know why, but I could not get to sleep. I worked on some projects, did a little office work and watched a movie or three. It was nearly 5am before I fell asleep. I was supposed to go to one of my group meetings on Tuesday morning, but I couldn't do it. I was too foggy. Then I helped some pre-transplant friends with some errands because they don't have a car and that pretty much wore me out.
I got a call at 6:20pm asking me if I was on my way? Oh dear! I had a ladies night out dinner that I completely forgot about. I told her no, I wasn't going to be able to make it. I had forgotten. I never forget to go out with my friends. Oh dear. To make up for missing the dinner we had one of my favorite meals, a BLT sandwich, and I thought I was going to fall asleep eating it.
By 9:00pm I was so tired I didn't think I could do another thing, but I hadn't written my blog post yet, so I found the Janiva chalkboard photo (the first photo) and put it in a blog post and that was the end. I couldn't do another thing. I closed the lid of my laptop and went to bed. I was just sure I'd be awake in a few hours so I didn't even turn it off.
6:30am this morning I popped awake!
I have no recollections of falling asleep, of rolling over, of my husband coming to bed of anything. I just know that I slept a good long time.
So that's what happened to Tuesday.
I sort of slept my way through it, missing meetings and forgetting dinner plans.
Now that I've got a good nights sleep under me, today will be better!
Hope you have a great day!
Kristin