My Grandparents owned a Burger King franchise when I was growing up and it just made sense for me to work there. What I didn't realize was how much I would love being there. I worked in the Lansing Mall Burger King in Lansing, MI. I worked there before we had a food court. I worked there when a Whopper and a large Coke was $3.00. We even had a salad bar at one point. We had one of the best stores, ever!
This is a photo of a few of us that went to the same school. We were placing a Burger King ad in the school yearbook, so we included this picture (or one like it) - I'm the short one. The very short one! Those uniforms were the brown ones with the orangy-yellow stripe. They were polyester and form fitting. I actually looked halfway decent in mine.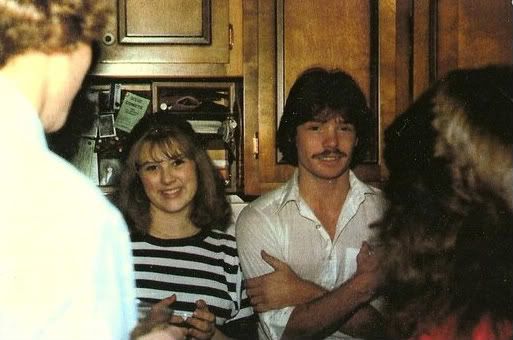 This is a picture of me on my 16th birthday. The guy I'm standing next to was the only guy that I ever went out with that I met while at work. (Yes, he has a mustache. LOL I just realized what you all might be seeing.) I remember, he wrote his name and phone number on a tray liner. I was just going on my shift so I asked to be placed in the dining room for a little bit so I could chat with him a bit more. He was just the nicest guy. I found this photo (or rather, it was a photocopy of the original photo - which is still MIA) yesterday in the boxes. I had to post it. We only dated for a few months, but this is by far one of my favorite pictures of all times.
So I was a Burger King gal. I worked there from the age of 14 until I was 18. There was a whole group of us that all worked there for that long. Most of the kids were honor students, too. It was such a different time in the fast food industry. It was one of my favorite jobs ever - and I was a great cashier. I was only put on the other stations if it was an emergency. I was slow as can be. Chatting with the customer and getting the order was my specialty.
Hold the pickle, Hold the lettuce, Special orders don't upset us, All we ask is that you let us, Have it your way.
Kristin
PS - I actually started this post at 11:11! It was a total fluke.