I figured it was time to give my faithful readers a bit of the real and now. I've been going on and on about the good old days - my high school and when i was a kid and on and on. Well today I took some more photos, of me! My favorite subject it seems. My husband and I were going to a luncheon with our transplant support group. Usually we do a potluck, but this month the venue was busy, so we opted to have the group meet at a restaurant.
I decided that since I usually dress in jeans and a t-shirt for the potlucks - I might as well get dressed up for a real restaurant! So I did. I put on my red and black flowered shirt that has all of these sparklies on it. It's pretty, but a bit wild lol I put on some lovely black dress pants, too. I curled my hair a little and put on some make up.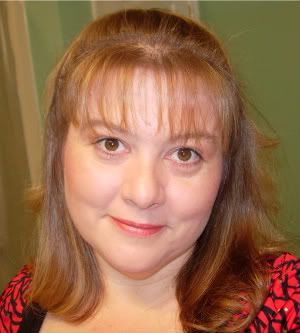 I thought since I had gone this far in the getting gussied up routine, I might as well grab the camera and get some self portraits. The funny thing about me and self portraits is that more than half the time my eyes are half closed. I think it is a natural state of my eye lids - either that or I'm really really sleepy.
I probably took about 30 - 40 pictures...all of them in my bathroom. I love the color of the walls in there and the lighting is the best in the house. I can also use the large mirror to "see" the viewing screen on my camera to make sure my pretty mug is actually centered in the square before I click.
So these are the two keepers from my photo shoot today. I've sent the smirky smile one off to a few friends. It's been fun.
Ya know, I never used to have my picture taken, but ever since I started blogging I've actually enjoyed it. Not to mention, with a digital camera, it's no big deal to click 40 times!
Go ahead, take your picture!
Kristin