I really like to write notes to people. I write out cards and sometimes I write long messages and other times I just write - "I'm thinking of you!" and mail it off.
I used to have piles and piles of cards. Boxes of cards in all sorts of shapes and sizes. Thank You cards, blank cards and birthday cards. The past few years I have watching my money a lot more than I have in the past. I still make impulse purchases, but a lot fewer. I haven't purchased a box of cards this entire year (2008!) and my card collection has been whittled down to nearly nothing! My sister gave me some cards for Christmas, cards that she made, so I'm reluctant to use those right away lol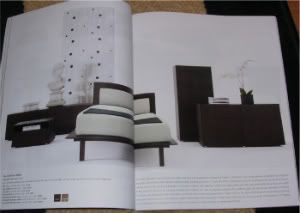 This is all leading up to this... I wanted some cards, paper, envelopes - something. The few that I had left had seen better days and I wanted something new.
I was cleaning out my computer room when I came across the DWR catalogs...2 of them.
They have so many lovely pictures.
Lots of white space.
I have used magazine pages before as writing paper, but only occasionally. These particularly wonderful pages tend to have a beautiful picture on one side and then the other side has just a few pictures and plenty of space to write. So I spent about a half hour carefully tearing apart the Design Within Reach Catalogs. I used the full size page and then tucked all of those pages into a large folder.
Those pages are going to be my new notepaper or envelopes.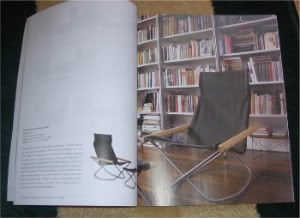 Envelopes are very easy to make. You can find envelope templates online for free (
here
and
here
) or you can purchase templates like I have. I keep them in a folder in my filing cabinet. It keeps them from being scattered all over the place.
My file folder of envelope templates is one of the few things that I can put my hands on even if I don't use them for months. The filing cabinet is a great place sometimes lol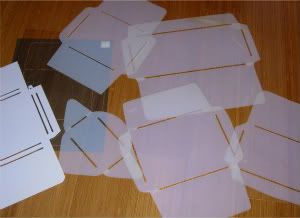 OK, so pick a template and then pick a magazine page that you'd like to see on your envelope. I liked this one because it had a lot of white area, that I could use as the front of the envelope and then it also had something very unique that would be great for the envelope flap.
My favorite envelope template is the one I used below, because it has such a large area for the flap. It means that you can have one large image - rather than a regular envelope where the back is divided into a small piece and a larger piece.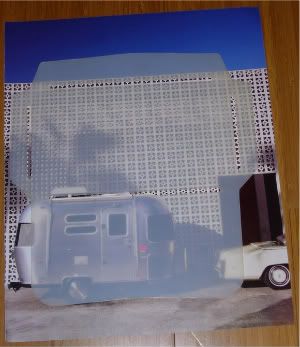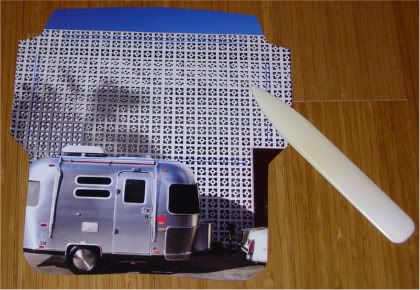 I place the template over the top of the page and move it around before I trace around the outside. In this case, I have the template upside down - the flap part is on the bottom. Then I cut out the outside and fold the sides in and crease the edges with your finger - or use a bone folder. If the paper is thin enough you really don't need to use a bone folder.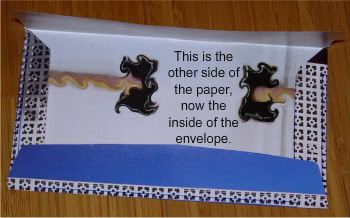 Fold the edges and tape the bottom corners. I've made the mistake of taping the folded over part to the inside of the envelope - there's no way to keep the contents in the envelope if you do that -- so do as I say and not as I do lol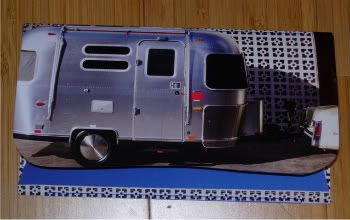 The front of the envelope looks like this. I love the shadow on the wall. I didn't notice as much in the big picture, but it really stands out now on the front of the envelope. The back of the envelope is the airstream trailer. I love how perfectly it fits. This is going to make a great envelope.
This is an example of how I'd address the front. I don't have any plain white labels, so these are small post-its. I'd use a bit of packing tape to secure the label to the envelope. Just make sure the address stands out from whatever the background is, so that your recipient actually receives the letter.
Also make sure that the back of the envelope is secured. I've used a glue stick before, but not all of them went through the mail and arrived still stuck - so once again, I'd use a bit of tape to seal the back flap.
If you want to reduce, reuse, recycle - this really is a fun way to do that.
The catalogs I used came from this company

I hope you have enjoyed this tutorial. If you would like to read more about how others are Making Do with what they have - head on over to
Ann Kroeker's
site. She's having a special
Make Do Mondays
carnival. I wasn't prepared on Monday, so I'm blogging about this today LOL
Have a wonderful New Year!
Kristin