I have been looking for my yearbooks from high school and cannot seem to locate them. It is just driving me nuts. Today I spent some time in a garage that we own - it's a few miles away from us at a condo that we rent out. We needed to garage space for storage, so it's quite nice. Not terribly handy but great to have. I thought for sure that the box that had the yearbooks was in the back of that garage. So I hauled everything all over the place to get to the back and it wasn't there. I looked at the tag on every box (or so I thought) and nothing made any mention of yearbooks. I finally grabbed a couple of computer printers that my husband wanted, the two boxes for Christmas ornament storage that I need to get the Christmas stuff down and out of the house and box that said "Paper (Can be long term storage)" I don't think I need to store paper long term - what was I thinking???
We have a closet storage area on the first floor in the condo where we live. I thought maybe I might find that elusive box there. So off I go. I find the Mary Kay brand mascara that I've been looking for...(once again, why is it is in a storage closet??) and my winter gloves and scarves that I wanted to take with me to Michigan in December. I also found this plastic box that was just full of paper. Turns out if was full of photographs and paper.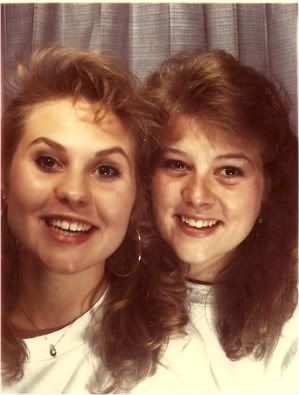 I found this picture of my sister Alison and I. We went to a BeatleFest event in Chicago. It was 1988 I do believe. We had no idea what to do. she was still in highschool and I was clueless as to the coolness of Chicago, so when we got bored with the BeatleFest people we did the craziest thing --- we boarded the hotel shuttle and went to the airport!
How totally crazy is that??
Well, the best thing that happened at the airport was that we got this picture taken. I just love it. That's my sister, Alison on the left and me, Kristin on the right. Can you believe that there is a 6 year age difference between us? I looked so young then. Now I can believe there's an age difference lol I got old somewhere along the line.
So, I may not have found my high school yearbooks but I did find a lot of really fun photos. Be prepared for some stories and some goofy photos. I've got prom pictures circa 1984 coming in the next few days. It's hysterical.
Have a fabulous day!
Kristin