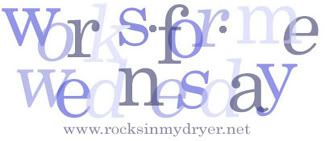 Welcome to another edition of Works for Me Wednesday. If you've been here before you know - this is a blog carnival where hundreds of bloggers participate by posting one of their helpful hints to make all of our lives easier or a bit more fun. Shannon
(Rocks in my Dryer)
, the host of this carnival, is giving tips for Moms whos kids are in sports. So please go to
Rocks in my Dryer
and see what tips you might find helpful - and please leave a comment for me as well!
One of my very favorite things to write with is a Sharpie. I write cards with Sharpies, envelopes, packages, lists on Post-It notes, nearly everything that requires writing, I write it out with a Sharpie.
My love of Sharpies has caused me to purchase more Sharpies than I needed and consequently, I put on my list of 101 Things to do in 1001 days, that I was not to purchase any Sharpies for a whole year! It was so hard to do - I was surprised. My year was up the middle of January 2009 and I'm happy to report that I did not purchase a single Sharpie. I still have not purchased any because I got so many for Christmas!! I got clickable fat ones, and clickable thin lined ones (that I had never seen before!) and I got personalized ones.
My sister purchased these personalized Sharpies for me from the Sharpie Store online --
Click Here for your own Personalized Sharpies.
Why does this work for me? ...because it is such a great, unique gift that even those that aren't all Sharpie crazy like me, would be thrilled to receive. They are $12 for 6.
What also works for me -- tell people what you want and chances are real good you will receive it. I blogged of my love for Sharpies and I received 4 packages of multicolored ones and then a dozen personalized ones on top of that from all sorts of people. I've decided to extend that no Sharpie purchases for another year because I've received so many.
Thanks everyone!! I've loved my gift more than you will ever know. I show off my personalized sharpies all the time and this weekend I was able to stop someone from taking my Sharpie when I pointed out that it had my name on it.
Hope you enjoyed this tip - it would make a fun Easter gift, wedding, baby shower or bridal shower gift. Now check out the other tips at
Rocks in my Dryer.
Have a Great Day!
Kristin