On the third day of our voyage on the Carnival Ship Fascination we docked in Nassau, Bahamas. This was the place where we took the
carriage ride
. It was warm and sunny. Oh so warm! It is getting into the teens tonight here in Jacksonville, FL. I am wishing for a little bit of these sunny rays.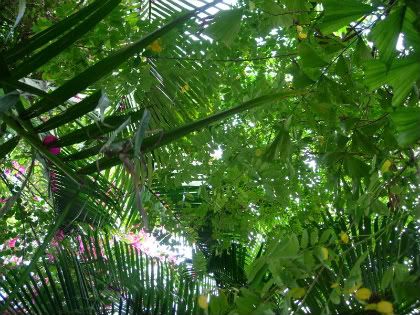 For all of you that are in the deep freeze up north -- Pretend these green palms are in your backyard - with the sun shining down warming you from head to toe.
Pretend you are eating a nice Italian dinner (or lunch) at Cafe Mattise in the Bahamas. These lovely palms are over your head - the purple flowers of the
Bougainvillea tree. A soft breeze of warm air rustling the palm fronds.
Enjoy a nice summer day.
Kristin