I'm a Ward Burton fan. I am! He hasn't even driven a NASCAR Cup car in a few years - heck he hasn't even driven the #22 Caterpillar car in more than 6 years. But my favorite number is 22 (which if you have been around long enough is 11:11 in my book LOL), I still get a little thrill whenever I see CAT equipment or anything Caterpillar for that matter.
My friend, JB (aka Bob,) found a post card in her Aunts mailbox one day that said that Ward Burton was going to be appearing at a Certainteed Shingle factory in Norwood, MA in about a week. She knew of my Ward obsession and picked up the phone and called me. She was so excited. After she told me, I was totally there.
The following week I loaded up my car and drove about 800 miles to meet up with JB and her sister in Norwood, MA. The event was a lot of fun actually. Ward arrived on time, he gave a little talk (I was in the front row smiling like crazy) and when it came time for questions and answers I had a question... He had broken one of his winning trophies and I asked if he had gotten it repaired - he told me no...that his wife has it propped up in the corner of a cabinet.
Then we had a photo session. Everyone who wanted to could go up, shake Wards hand and get a Polaroid photo as well as a signed postcard (above) and a few other goodies.
I was one of those annoying fans and I wanted to be close as possible to him, so I stood right by his side rather than standing back and putting out my hand. He later told JB, her sister and I not to spend too much time in the pubs. It was so funny.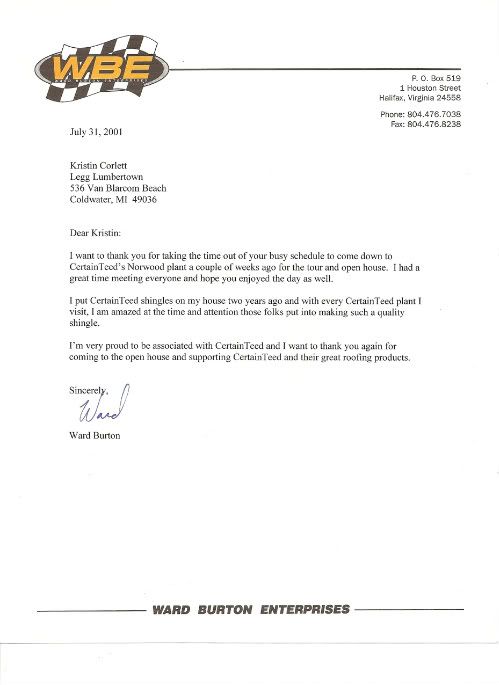 A couple of days later I got this letter thanking me for coming but also to let me me know how much he loves the Certainteed shingles he put on his own home.
This was such a fun impromptu roadtrip. I got to meet my favorite driver in a fairly small venue - there were just a hundred people there...that's hardly anyone in comparison to the crowds that come to the speedways. It was also a lot of fun to spend that day with my friends.
I have been mourning the loss of NASCAR in my life. Tom and I used to live in Daytona Beach - the home of speed. We used to live in a community where race car drivers lived. I was a little part of the NASCAR community and it was a lot of fun. Now that we have moved to Jacksonville, now that Ward is no longer driving, now that my life is different I haven't watched a single race from beginning to end in almost 2 years.
On NASCAR.com they have a countdown to Daytona. I'm not sure if that's the beginning of Speedweeks or not, but I love Daytona Beach during Speedweeks. It's electric. I hope to go to another race again, but it just isn't the same without being able to root for Ward.
Have a fabulous weekend!
Kristin