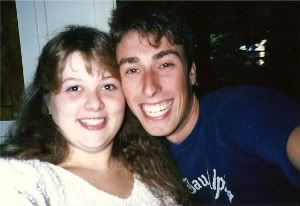 I'm going to visit my friend Steve today. He's taking a cruise out of Miami, so he decided to come a few days early so we could meet up and hang out a bit. Steve has been my best friend since I met him in 1983. He signed up to be part of the stage crew for our High School Musical, "Hello Dolly" and I was part of the chorus that year. He had just transferred into our school, so he was very lucky to have met me right away!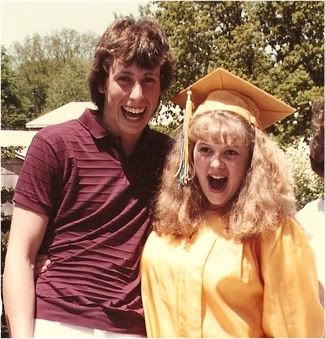 I am a year older than him, so I had the honor of graduating from High School before him. He managed to get several degrees after HS to totally surpass this event -- but I've got a picture of me being first, so ha! LOL
Steve's family lived in Michigan for quite a few years, so we would see each other quite a bit when the holidays rolled around, even though he moved to California. This picture was taken at his brothers wedding - Steve's hair was all one length, way past his shoulders as I recall. It was quite a look! He's gone back to short hair again. It suits him.
Now that I have moved to Florida, it has been a bit more difficult to see each other while we are already on a scheduled trip. However, I've gone out to Santa Cruz several times to visit him and I've even taken
Ingrid
out there to meet him. I'd say we see each other about every two years, give or take a year. Two years ago Steve went on another cruise, out of Miami and I drove down after his cruise to see him. He was so worn out from all of his late night dancing that I'm thinking we'll have more fun together this time around when I see him before he parties for a week.
I'm leaving today and come back on Sunday. It should be a total riot.
I love you Steve! We're going on 26 years of friendship.
Kristin