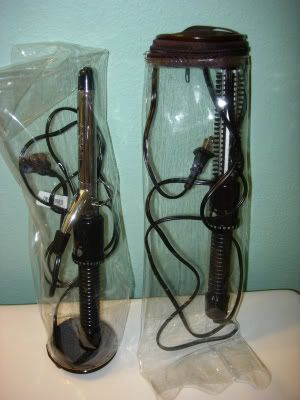 What are these strange contraptions, I bet you are saying... Well, let me tell you.
The items encased in plastic are my curling irons. I don't use them very often, so to keep them from getting dusty I put them in the plastic sleeves.
The main reason I wanted to use the sleeve was because of the brush style curling iron. It seemed like no matter where I put it, in my bathroom, something got stuck to it. It was a magnet for rubber bands, lint, thread, kitty fur and necklaces.
I purchased some fabric roller shades a few years back and they came in these nifty plastic sleeves. They plastic was really thick and one end had a zipper. I tried all day to figure out what to use those fancy zippered sleeves for, when it occurred to me! I'd cut the sleeve in half and store my curling irons in them. That was just the perfect solution.
The only drawback is that I can't place the irons in the sleeves until they are completely cooled. I could have used an oven mitt I supposed if I wanted to store then while they were still hot - but the great thing about the plastic is that I can see what's in there. I will forget that I have curling irons if I can't see them. If I had some lovely fabric covering up these irons, I'd have a whole basket of them because I'd buy more, thinking I didn't own any.
This is certainly a great Make Do Mondays post - because instead of going out and buying something to put my curling irons in, I made do with what I had in my home. I've also saved myself additional moneys in not purchasing any more curling irons because I can see what I already own and can remember that it's there. (Maybe if I curled my hair more often, I'd remember!)
Please go visit
Ann Kroeker
for more
Make Do Monday
ideas. She's talking about her Crock Pot today.
Thanks!
Kristin