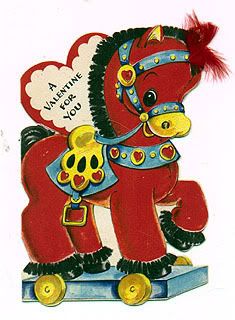 Life of a Southern Belle
had a Valentine Swap where a bunch of us were randomly paired up -
here
. (There are a lot of fun blogs on that list, if you are looking for some new blogs to explore) Unlike my Secret Santa swap, my swap partner and I knew that we had each other. So we emailed and chatted, read each others blogs and made a real effort to get to know each other. We filled out a little questionnaire about our general likes and dislikes but that just fueled further discussion from my partner and I.
If you looked at our answers to the questionnaire you would immediately see that we have nothing in common! But if you read into it just a little, you would see that we were very much alike. She has two beautiful boys and a very smart husband, who took the opportunity to marry such a great woman. She is about 14 years younger than I am, which makes her just about the same age as my youngest sister. She likes about every craft imaginable and is in love with all things pink and cupcakes. She likes to decorate, too. I told her that I was a diabetic and would prefer to not have any sweets and she wrote that she isn't a fan of sweets either - so our swap was High on Sweet Gifts, but low on sweet treats! I was so happy that I didn't have to fill up a package with chocolate and that I could just go out and find fab items to make someone really happy.
Well, Ruth Ann from
My Remodeled Nest
was my partner. She and I both sent our packages on Friday and we both received them on Saturday! Sometimes the postal service amazes me at their speed. Ruth Ann blogged about what I sent her, yesterday
here
. So be sure and see what I sent her -- she thinks I did a pretty good job. But I didn't do even half as well as she did.
Look at what I received... Oh My Goodness, she was awesome.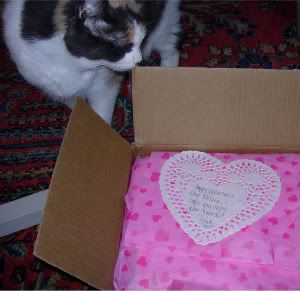 Here is the box as it was when I opened up. I was so excited and so was Mocha! Ruth Ann really likes Pink. It shows! lol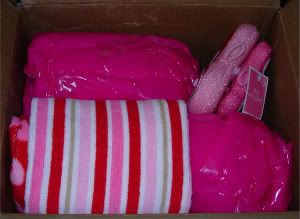 Oooh more pink! The intrigue just continues. What can all of this be?
Two fabulous pink dishtowels, holiday themed and in the wash right now to make them ready for my favorite household task. The heart and the owl are dish scrubbies. How fun! I have never had a themed scrubbie before. I'm actually excited to use them. (I know, I'm a goofball)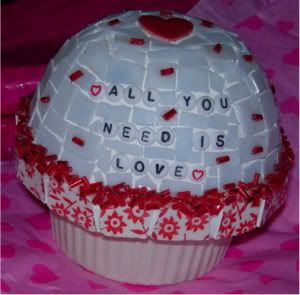 Ruth Ann told me in her Getting to Know you questionnaire that she likes to make mosaics. Then last week she mentioned that she decided to make me something and include it in the package. I had no idea it was going to be this cool!! Look! It's a mosaic cupcake! I'm totally loving it. I have been singing the Beatles ever since. "All you need is love, love...love is all you need..." On the bottom she even signed it. Thanks so much Ruth Ann, thank you.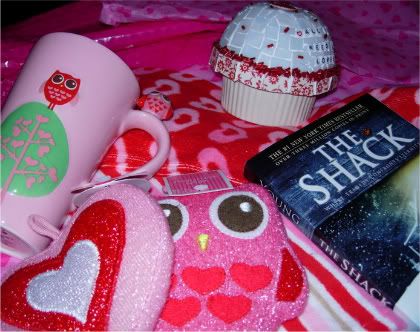 Here is the full contents of the Valentines Swap. I mentioned that I have been wanting to read "The Shack" but hadn't gotten it purchased yet - I love it when people use clues [:)] - I had forgotten I had said that until I saw the book and then I gave a wonderful giggle. She found this great pink mug with an owl on the top of the handle - isn't that adorable?!! ...and my hand fits quite comfortably in the handle and around the mug. Perfect.
I am really enjoying these swaps and so far I've gotten THE BEST partners. Ruth Ann, you are wonderful. I had such a good time getting to know you and I think we will continue to be blogging friends.
Thank You Thank You for such a great swap experience.
Kristin