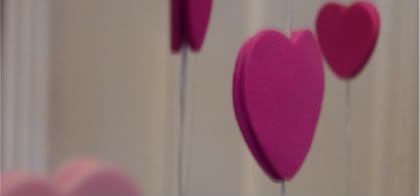 Easy Valentines Day decorations.
This idea came out of necessity, sort of. I thought I had purchased a bag full of foam heart stickers. Instead, I purchased foam hearts. I needed to put them to good use, so I decided to make hanging decorations.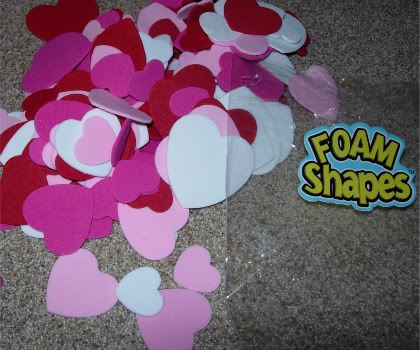 You will need:
Foam Shapes

Dental Floss or other string

Hot glue gun

Tacks or tape (depending on where you are going to hang your heart strings.)
If you use heart stickers, you can skip the hot glue gun
Pull out a length of dental floss - mine were between 4 & 6 feet. Then place one heart on one side of the floss. Place a dot of hot glue on the heart, on top of the floss. Then place the same size & color heart on top. Sort of a heart sandwich.
Randomly space the hearts in different shapes and sizes on the floss.
I used push pins to hang my heart strings from the top of the doorway.
You could hang these in front of a mirror to instantly double the hearts! I these would be fun on my bathroom mirror.
I got this idea after seeing
Jeffery Rudell's
tutorial on how to make a snowstorm.