It's been a long road of construction for my mother. She's been living in the house as her kitchen has been remodeled and instead of taking just a few months to finish - it has taken nearly six months. I actually helped my mom pack up her kitchen the first week in June of last year.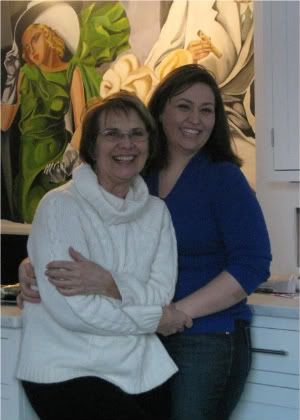 My sister Hillary loves this house. The joke is that she is going to have to send our mother into a nursing home before she gets to have it for herself. haha She has been unsure as to whether or not she likes the changes to her childhood home but I do think as it's coming together she is growing to like it more and more. I love this picture of my Mom and Hillary.
This is New Kitty. New Kitty is really enjoying all of the construction, as a lot of kitties would. She would get herself locked in a closet for sure, I can just tell. But doesn't she just look adorable hanging out in the new cabinet.
Have a wonderful wonderful week.
Kristin