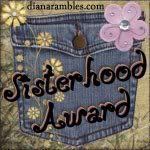 Thanks Ruth Ann! I got this award from Ruth Ann (
My Remodeled Nest
) who as you may recall was my Valentine Swap partner. She said that she was giving this award to some of her new blog friends who showed great attitude or gratitude. This is one of only a few awards I have received since starting my blog over a year ago - I thank you so very much Ruth Ann!! What a lovely honor!
I don't get many awards because I never give them LOL Someday real soon I'm going to post my blog roll of all of the places I love to visit in blog land. That will be my contribution to the sisterhood award.
Yesterday I noticed that I was up to 500 posts and I was a little bummed that I didn't have a giveaway or something to mark this event - then as I was looking through the back office of the blog, I realized I had a dozen or so posts that were drafts. Many were just a title and no words lol I went through and deleted and evaluated all of those drafts and now have about 20 more posts to go before I get to that 500th post. Maybe that's what I'll do - I'll come out with my Blog Roll and a giveaway at the same time, make it a real event!
Thanks again
Ruth Ann
for the lovely award! It has certainly been a pleasure getting to know you.
Have a great day!
Kristin