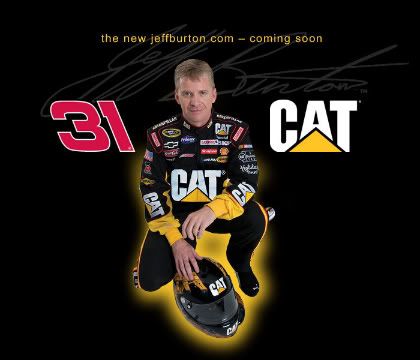 A few weeks ago I wrote up a little story about
Ward Burton
and how much I liked him, and the CAT car and the number 22 and all of that -- well today I was flipping through the channels looking for something to listen to while I did a little computer work. The Speed channel caught my eye because it's almost time for the Daytona 500 and I just love all of the races that lead up to it - they're short, fast and fun. The Bud Shootout is tomorrow and the twin races (I can't remember what their new name is) is on Thursday. I may just make my way down there for the race on Thursday. Tom and I went to that race once and it was a lot of fun and not too crowded. But anyway, I digress.
So I'm watching Speed. They go over to talk to Jeff Burton (Ward's brother) and I notice there's this little CAT sticker on the trailer behind him and I think "oh, that's great that CAT is a minor sponsor for Jeff" and I smile. Then a few minutes later they go to a shot of two guys taking the tarp off the "
new look
" for Jeff Burton's car and it's a CAT car. The whole thing is yellow and black.
I about fell over!
I did jump up and clap.
I really did.
I know that most of you reading this blog don't have the teeniest bit of interest in NASCAR, nor do you even care - but you do know what it's like to get really excited over something and that's what I'd like to share with you -- I was SO EXCITED to see that car with that person.
It was a total cheap thrill - and I love cheap thrills. They make me smile all day.
So I hope you have a cheap thrill this weekend because they sure do feel good. :)
...and I'll be rooting Jeff Burton real hard this year.
I might even watch a race or two after the Daytona 500.
Kristin