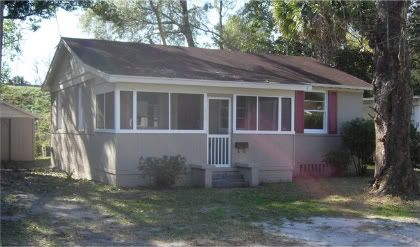 This is the house on Springfield - it's done now and it's for sale. We refinished the hardwood floors, put in all new kitchen cabinets, replaced the tile in the kitchen and diningroom, replaced some of the doors and really made this house better. Several places we were able to keep the original moldings, I have a close up of it below. The closet doors came with the original glass door knobs. We kept those as well.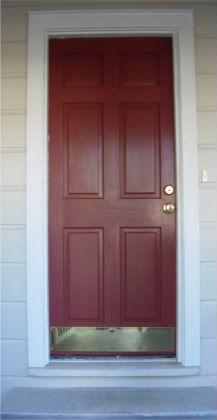 This is a two bedroom, one bathroom house with a kitchen, diningroom and livingroom, screened in front porch and a detached storage area, that could be turned back into a car garage.
The house has been painted inside and out. The last picture is the before shot. Whew, that blue had to go! It is so much nicer and a lot less jarring.
I need to get the adhesive felt on the bottoms of the furniture and get rid of the red cloths, don't you think! Well, enjoy the photos of our second flip.